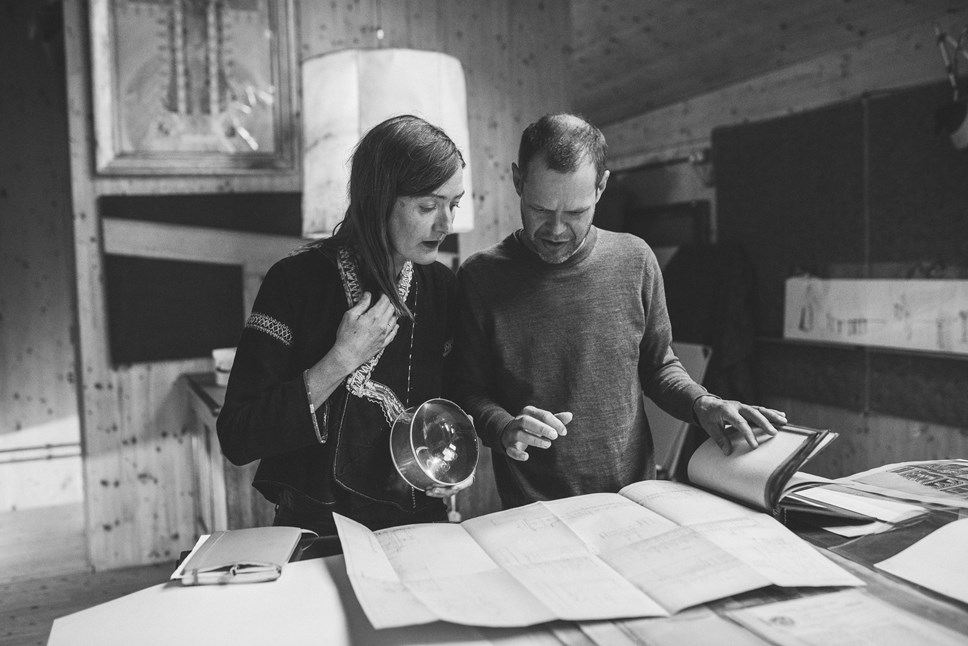 Artists Denman and Gould to Work on Public Art Commission at Lydney Harbour
Artists Denman and Gould have been appointed to deliver two landmark public artworks for Lydney as part of the £2.1million Destination Lydney Harbour project, funded by the Ministry of Housing, Communities and Local Government's Coastal Community Fund.
Denman and Gould were successfully appointed after a public consultation and competitive procurement process. The commission will further enhance the visitor experience of the harbour, linking the town with its important seafaring heritage.
Rose Farrington, Community Projects Leader, Forest of Dean District Council said:
"We were looking for an artist to create a site-specific installation that would draw attention to Lydney's unique heritage, making connections between the history and context of Lydney Harbour and the surrounding area both physically and conceptually. Denman and Gould specialise in public and community-based projects and have in-depth experience of delivering public art projects like this, we are looking forward to working with them to create something unique for Lydney."
Artists Denman and Gould said:
"We are hugely excited to be working on such a fascinating project. We are very inspired by the rich history and the unique natural environment experienced at Lydney. We look forward to fully getting to know the place and to create an artwork that truly reflects and supports the use of the historic harbour."
Forest of Dean District Councillor, Bernie O'Neill said:
"The public artwork is an intrinsic part of the harbour redevelopment and something that we hope the people of Lydney will be proud of; it will welcome visitors to the area, invite people to visit the harbour and, in doing so, help them to learn about this nationally important scheduled ancient monument."
Devised by the Lydney Coastal Community, The Destination Lydney Harbour project will create safe, attractive transport routes into Lydney Harbour and develop the area as a recreation and tourism destination. The old mortuary and store buildings have been upgraded and will become the new accessible toilets and Visitor Information Hub, mooring and seating points will be installed and improvements made to cycle and walking routes, the highway, and station approach. Signage will be improved, and a new walking trail will be installed. Lydney Skiff, a community rowing boat building project is also underway – bringing this traditional craft back to Severnside.
Contact Information
Forest of Dean Communications Team
Notes to editors
The Destination Lydney Harbour bid was submitted to MHCLG's Coastal Communities Fund and the project was awarded funding in September 2019. The project consists of a number of elements which cover the area from the A48 roundabout on Harbour Road to the docks and harbour and serve to improve connections between these areas and the town centre. They can be broadly categorised as Improvements to Access Routes and Wayfinding, Enhancements to the Landscape, Enabling Increased Use of the Canal, Docks and Harbour.
The DLH project includes the refurbishment and conversion of the Harbour Store and Mortuary buildings to provide a heritage information point and toilet facilities respectively plus the installation of a modular café unit.
The Lydney Coastal Community Team (LCCT) is a multi-partnership group with membership representing interests at the local, district and county level. It was formed in 2015 as an open forum, anyone with an interest in the docks and harbour is welcome to attend. The next meeting is to be scheduled shortly. More information can be found on the District Council's webpage: Lydney Docks & Harbour.
Coastal Communities Fund
The Great British Coast has enormous economic potential and this government is determined to see it thrive all year round.
That's why by 2020 the Government will have invested over £200 million in our much loved seaside areas through dedicated programmes like Coastal Communities Fund to help in generating jobs and boosting businesses.
So far, analysis has shown that this has been money well spent with every £1 invested having the potential to create an up to £8 boost to our coastal economies. To find out more visit: https://www.gov.uk/government/collections/coastal-communities-fund
Denman and Gould
Denman+Gould is an art and design studio specialising in public and community-based projects. They work across multiple disciplines, from the design and build of large-scale public art projects to film, sculpture, textiles and jewellery.