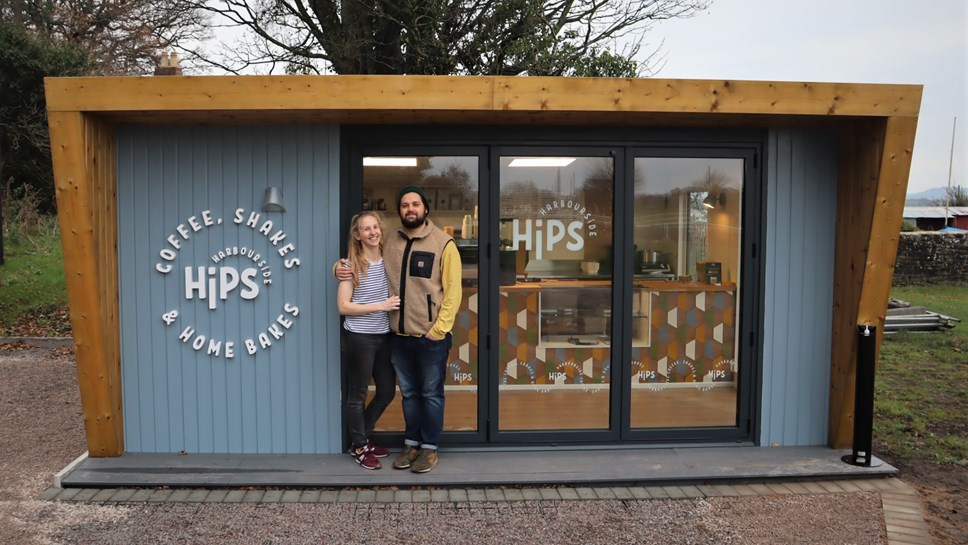 Café, toilets and visitor hub opens at Lydney Harbour
A new café, public toilets and visitor information hub is now open at Lydney Harbour as part of the Forest of Dean District Council's Destination Lydney Harbour regeneration project.
The café will be run by Hips Social, a family run coffee shop and eatery already in Lydney. The café along with the public toilets and information hub are part of the District Council's 'Destination Lydney Harbour' project which will continue to improve the docks and harbour to drive growth, improve the experience for visitors and residents and increase jobs and prosperity in the town.
Deputy Leader of the Council and Cabinet Member for Communities, Cllr Paul Hiett said,
"We are delighted to see the next stage of Destination Lydney Harbour complete; residents and visitors will now be able to enjoy a cup of coffee at one of the most beloved spots in the district.

"This is only one stage of the project though, and we are determined that the rest will follow in due course. With the public art trail and heritage interpretation set to get underway in the coming months, along with improvements to the harbour approaches and more to follow. A community boat building project is also taking shape.

"I would like to thank our regeneration team, who have worked tirelessly on what is a major regeneration project for the Council and the opportunities that this wonderful area offers are numerous."
Tom and Lucy, Hips Social owners, said,
"We're excited to be opening the doors of the café to guests old and new and can't wait to share a coffee with them while they enjoy the harbour."
The improvements at the site have been made possible with a grant of £2.1 million from the Government's Coastal Communities Fund along with resources from the council. The improvements have also included new harbour mooring points, bespoke railings being installed outside the properties adjacent to Lydney Train Station on Harbour Road and 150 trees being planted along the road on the approach to the harbour.
Tom and team will be welcoming visitors at HiPS HARBOURSIDE through to Thursday this week and after the Christmas Break the café will be open seven days a week from 9am - 3pm during winter months with plans to extend the hours in spring. The toilets and visitor hub will be open during the same hours that the café is open. Please check Hips Social's Facebook page for Christmas opening hours.
Contact Information
Forest of Dean Communications Team