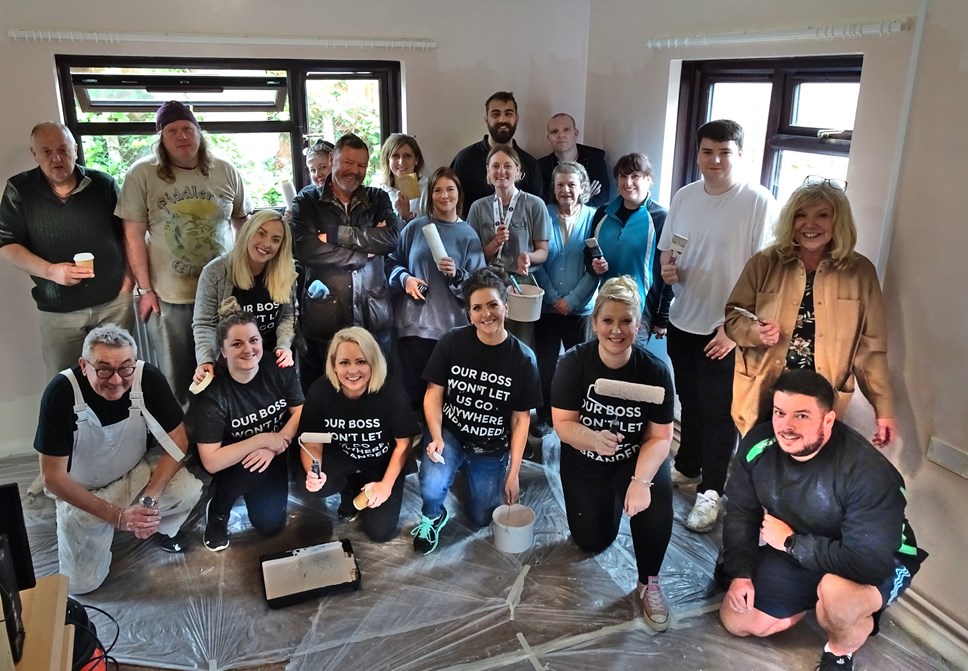 Council Community Builders bring residents together to brighten up community
Members of Forest of Dean District Council's Community Builders Team have been working with partners and residents in Cinderford to find out what members of the local community would like to see in their area and working with them to make that happen.
Cabinet Member for Communities, Cllr Paul Hiett said:
"The Community Builders Team do fantastic work in meeting local residents and working with them to support their local community.

"Having held a 'Chips and Chat' event with residents back in March, it was clear that the revamp of the Community Centre on Worcester Road, Cinderford was of high importance to the community and I'm really happy that the Council, along with local businesses and partners were able to deliver this for residents.

"I'd like to personally thank everybody who has been involved in this project and I hope that residents in Cinderford can now enjoy the Community Centre for many more years to come."
The Community Centre is used by residents for exercise classes, bingo, coffee groups and other regular activities, though it had recently started to look a little tired.
The initiative began with work and wellbeing services provider Seetec Pluss contacting local construction school AccXel to discuss working on a community project, before partnering with Forest of Dean District Council, Prospect Training Services and Two Rivers Housing to carry out the required work at the Community Centre at Worcester Road, Cinderford.
Rebecca Porter, Seetec Pluss said:
"This Community Volunteering Event has been organised by a full range of organisations with the sole aim of benefiting both the residents and the local community. A fun day had by all with some decorating tips picked up along the way!"
The Community Volunteer Event was put in place on 11 and 12 May to assist, with the partners working collaboratively to provide the extensive redecoration and residents were left delighted with the result.
One local resident who regularly uses the centre said:
"'The place looks so much cleaner and better and it's amazing how much work has been done in the time. Everyone must have worked really hard. Thank you."
Chief Executive of Two Rivers Housing, Garry King said:
"I am delighted, and slightly humbled, that representatives from local businesses, Forest of Dean District Council and Two Rivers have kindly given up two days of their time and come together to create such a bright and welcoming space for the benefit of the Worcester Road scheme residents and local community.

"I would personally like to thank all the hard-working volunteers for their generosity and community spirit, plus the local organisations who have donated time and resources, as well as helping us plan this event in partnership with the residents.

"On behalf of Two Rivers Housing, my gratitude and thanks go to the volunteers from Seetec, AccXel, Prospect Training, Forest of Dean District Council Community Builders, and the Two Rivers Housing team."
Contact Information
Forest of Dean Communications Team