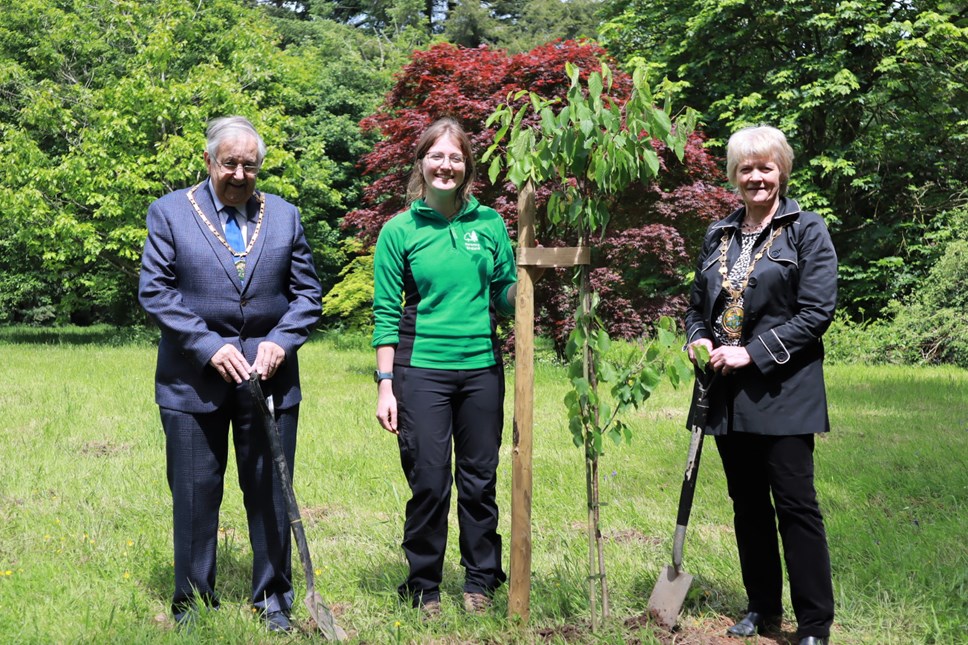 Council plants trees to mark Platinum Jubilee
To mark Her Majesty The Queen's Platinum Jubilee, members of Forest of Dean District Council and volunteers from Forestry England have planted cherry trees as part of the Green Canopy tree planting initiative to "Plant a Tree for the Jubilee".
Chair of Forest of Dean District Council, Cllr Julia Gooch said:
"The Platinum Jubilee is an historic occasion, and I am enormously proud to be involved in commemorating this very special event by planting seven beautiful Cherry trees that will provide a lasting memory in our District.

"The Queen's Green Canopy is a great initiative, and I would like to thank Forestry England for their help and advice in choosing and planting the trees that will help to provide enjoyment for residents, both now and in the future.

"I hope that everyone across the Forest of Dean enjoys the Jubilee celebrations being held in their communities and will be able to visit the Cyril Hart Arboretum to see and appreciate this very special tribute to Her Majesty the Queen."
With a focus on planting sustainably, the Queen's Green Canopy was initiated to create a network of individual trees, avenues, copse and whole woodlands in honour of The Queen's service and the legacy she has built, in turn helping to create a legacy of its own.
The cherry trees have been planted along the walking path at the Cyril Hart Arboretum in Speech House, near Coleford. Wild cherry is a British species of tree and is included on historic documents as a tree to plant in the Arboretum, based on Dr Cyril Hart's British Trees in Colour.
Recreation Ranger at Forestry England, Emily Fergusson said:
"It's fantastic to be here on such a momentous occasion. The trees that we are planting are wild cherry, native to Britain, they show good resilience to disease, changes in weather and squirrel damage.

"They also create great habitat and food source for birds and small mammals."
Find out more about the Cyril Hart Arboretum here - www.forestryengland.uk/the-cyril-hart-arboretum
Further details of the Queen's Green Canopy initiative can be found here: https://queensgreencanopy.org/
Contact Information
Forest of Dean Communications Team
Notes to editors
Chairman of Forest of Dean District Council, Cllr Julia Gooch, Vice chairman Cllr Clive Elsmore and Recreation Ranger at Forestry England, Emily Fergusson plant the cherry trees at Cyril Hart Arboretum.
Forestry England manages and cares for the nation's 1,500 woods and forests, with over 296 million visits per year. As England's largest land manager, we shape landscapes and enhance forests for people to enjoy, wildlife to flourish and businesses to grow. We are continuing the work we have already started to make the nation's forests resilient to climate change and by 2026 we will:
create at least 6,000 more hectares where we integrate wilding activities in our productive forests.
increase the diversity of visitors to the nation's forests and have one million hours of high-quality volunteer time given to the nation's forests
plant at least 2,000 hectares of new, high quality, predominantly broadleaf woodlands
For more information visit forestryengland.uk. Forestry England is an agency of the Forestry Commission.
Media contact: Holly Pretious, Marketing and Communications Officer, holly.pretious@forestryengland.uk