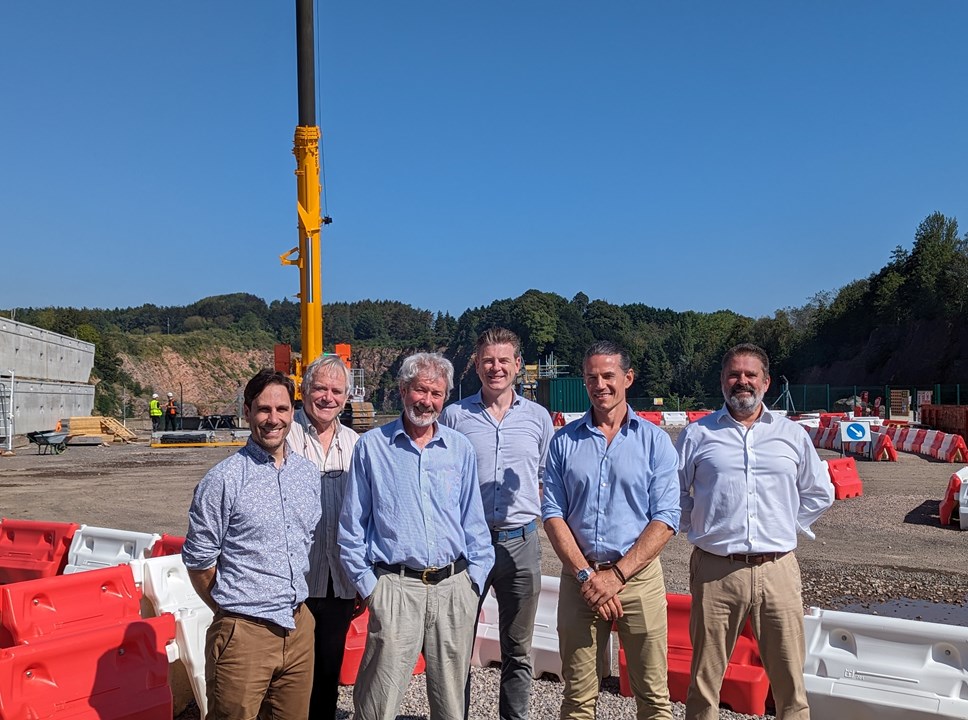 DEEP opens its doors to underwater research in Tidenham
Forest of Dean District Councillors and staff were recently invited to visit DEEP and given the opportunity to view the exciting plans for the Forest of Dean and the work carried out so far at the pioneering underwater research and development base at Dayhouse Quarry, Tidenham.
DEEP is engineering new technologies to improve human access of the oceans to increase understanding and preservation of the planet's deep water environments, with the ultimate goal of humans being able to live, explore and understand the oceans whilst living underwater.
Cabinet Member for Economy, Cllr Johnathan Lane said:
"It's been fantastic to visit the DEEP underwater research facility here in Tidenham.

"To have innovative and world leading research being conducted here in the Forest of Dean is extremely exciting for all concerned and it's been great getting to meet the team behind the project and find out more.

"The benefits that DEEP will have for schools, universities and businesses across the Forest of Dean, the South West and beyond, is incredible and we look forward to working with DEEP and local organisations to develop that relationship further."
Over £100 million has been invested to acquire the land and begin to set-up the DEEP campus at the site in Tidenham, with further investment at Dayhouse Quarry and in the local area to continue in the coming years.
With the DEEP Institute, the Company's training and human performance division, being housed in Tidenham, there will also be opportunities for schools and universities around the area to work in partnership with them to help further their studies into the world's oceans, as well as learning more about the design and build of underwater research facilities.
The site at Dayhouse Quarry was purchased in December 2021, with planning permission granted for temporary structures and works to the quayside and work on those improvements and the building of permanent structures at the site is expected to start shortly.
Chris Griffiths, DEEP's Director of Labs said:
"It's been a great opportunity to meet and work with local Councillors and outline how the pioneering research being conducted at DEEP can potentially help people live and explore our oceans sustainably for many years to come.

"Over the coming months we'll continue to discuss our plans with local Councillors, organisations and Tidenham residents and look forward to working with the people of the Forest of Dean and beyond as we build out our operations, and develop the equipment, procedures and skill sets to help protect, preserve and explore our oceans."
The site at Dayhouse Quarry will also have deep water rescue training take place for those in the emergency services, with DEEP working with partners in those areas to ensure that staff have the skills and knowledge required to perform rescues at incredible depths.
For further information on DEEP, please visit their website at the following link: https://www.deep.com/
Contact Information
Forest of Dean Communications Team
Notes to editors
In the photo from left to right: Cabinet Member for Economy, Cllr Johnathan Lane. Cabinet Member for Communities, Cllr Adrian Birch. Cabinet Member for Climate Emergency, Cllr Chris McFarling.
Member of of DEEP left to right: Mike Shackleford – President, Global Services. Rob Colley – Director, DEEP, Elite Performance and Training Services. Chris Griffiths – Labs Director.