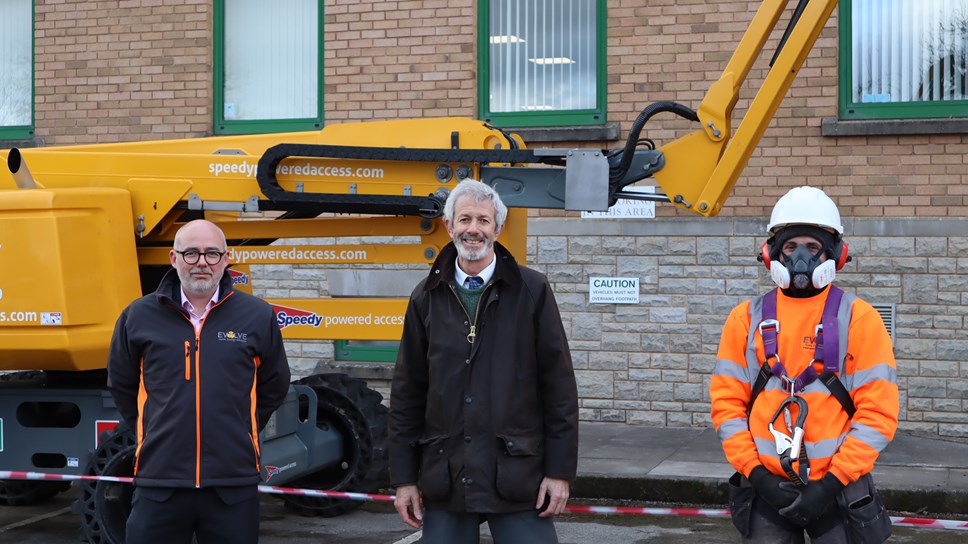 District Council 'goes to the wall' to boost energy efficiency at Coleford office
The future day-to-day running costs of the Forest of Dean District Council offices in Coleford will be less from now on following the recent addition of new cavity wall insulation.
The work, carried out by Monmouth-based business Evolve, is the next step in the Council's ambitious plans to rollout carbon reducing measures across its operations and activities as it strives to become a net-zero carbon local authority by 2030.
Part-funded through a £126,000 Public Sector Decarbonisation Scheme grant, which has already subsidised the installation of new photovoltaic solar panels on the office roof space, the investment in cavity wall insulation will help the Council save energy - equivalent to 22,178kWh gas savings per year - and many thousands of pounds over the lifetime of the building, making it a cost-effective choice.
Councillor Chris McFarling, Cabinet Member for Climate Emergency at Forest of Dean District Council, said: "The rising cost of energy is on many people's minds right now and like many people we are looking at how we can save energy to bring those costs down. Putting in measures such as the new cavity wall insulation will help us achieve this. While we are in the fortunate position that the cost of the installation has been largely met by a grant from the Department for Business, Energy and Industrial Strategy, wall and roof insulation remains one of the most affordable large-scale changes businesses and householders can make to their premises and homes to improve energy performance.
"While saving money is a key consideration, six percent of the Council's own emissions are the result of gas and electricity consumed by the Coleford office. So looking at how we can cut the carbon of our own buildings is vital if we are to succeed in achieving our climate priorities. Our focus is now shifting to how similar adaptations can be applied to other council buildings, including our leisure centres."
The insulation is part of a wider scheme of works to decarbonise the Council's offices which, along with the solar panels and new energy efficient LED lighting, includes replacing the gas-fired hot water system with point-of-use electric water heaters in kitchen and toilet areas.
Once complete, the combined measures are predicted to save over 40 tonnes of greenhouse gases being emitted into the atmosphere each year and reduce the Council's reliance on energy supplied by the grid.
Brian Canning, Operations and Commercial Director at Evolve, said: "Evolve Home Energy Solutions is delighted to be working in partnership with Forest of Dean District Council to ensure that their office in Coleford is climate emergency ready. It's encouraging to see the Council taking a fabric first approach on climate change. As well as ensuring the building is properly insulated in preparation for any additional improvements towards net-zero, cavity wall insulation also offers a great return on investment and we'd encourage all local authorities to mirror the Forest of Dean's approach."
In the future, the District Council plans to replace the gas boilers used to heat its office's central heating system, most likely with more energy efficient air source heat pumps. This will be done once the boilers begin to reach the end of their working life to avoid wasting the energy and carbon already embedded in their manufacture.
Residents who are concerned about rising energy bills can access free, impartial advice through the Council's partner, Severn Wye Energy Agency. There are also a range of grants available for eligible households to improve the energy performance of their property, including insulation. Visit www.warmandwell.co.uk or call 0800 500 3076 for details.
Contact Information
Forest of Dean Communications Team
Notes to editors
Photo shows (l-r): Brian Canning, Operations and Commercial Director, Evolve and Cllr Chris McFarling, Cabinet Member for Climate Change at Forest of Dean District Council with a member of the Evolve installation team.
The Council's Heat Decarbonisation Plan can be found here: coleford-offices-heat-decarbonisation-plan.pdf (fdean.gov.uk)
The insulation, made of polystyrene beads, is blown into the cavity of the building at high pressure. Longer-lasting than fibre or foam insulation makes them a more cost-effective choice.