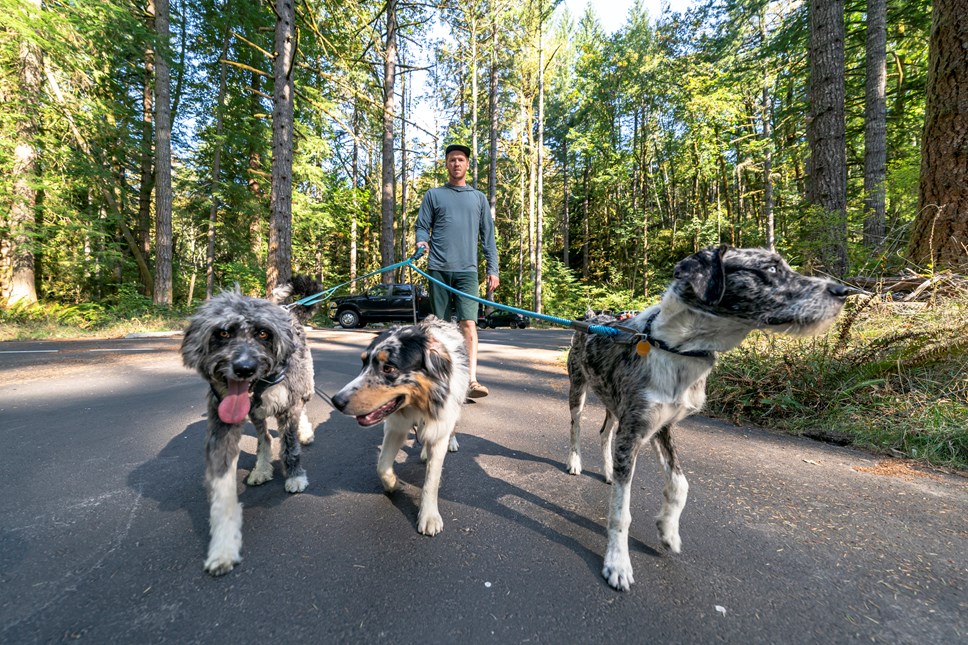 Dog owners educated to keep community safe
The Street Wardens at Forest of Dean District Council have been working with over fifty dog owners to help them to keep their dogs under control in public areas to maintain safety in the community.
Deputy Leader of the Council and Cabinet Member for Communities, Cllr Paul Hiett said:
"It's important with the numbers of animals in the area that they are looked after responsibly and the work that our Street Warden Team put in to help keep the Forest of Dean safe is incredible.

"Taking the time to provide advice and engaging with dog owners in the first instance means that often there is no need to issue formal action, something that is only pursued as a last resort.

"As a council we want to ensure that residents in our community feel safe and I'd like to personally thank all of the staff involved in helping with this."
When the Street Warden Team is made aware that a dog is potentially out of control, they will initially visit the dog owner, offer advice and reaffirm their responsibility to keep their dog under control in public. This first step is often all that is required, however when cases are persistent, further action can be taken in the form of Community Protection Notices.
Where cases continue, a formal warning is issued with instructions set out to the owner that the team believes will stop the problem having a detrimental effect on the locality. If this is breached, a full notice is then issued. The full Community Protection Notice will only be issued if the conduct of the individual is having a detrimental effect, of a persistent or continuing nature, on the quality of life of those in the area.
Street Warden Team Leader Damion Collins said:
"Our first priority as Street Warden's is to ensure the safety of residents in our community.

"Though we are happy to report that the majority of dog owners act responsibly, we sadly work with those who are unable to control their animal correctly, with Street Wardens helping to ensure that it does not cause concern for other residents in the area.

"Issuing a formal warning or notice is a rare occurrence and is not something we do lightly. As a team we work with residents and owners to offer guidance and solutions to stop this happening. Where they are issued, it's important to note that Community Protection Notices are there to help safeguard local communities and its residents."
Despite the large number of visits carried out by the Street Warden Team, in 2021 only six formal warnings were issued in relation to owners allowing their dogs to be out of control in public areas. These were for owners repeatedly allowing their dogs to stray or the dogs acting aggressively in public. Two of these were breached which resulted in Community Protection Notices.
Contact Information
Forest of Dean Communications Team