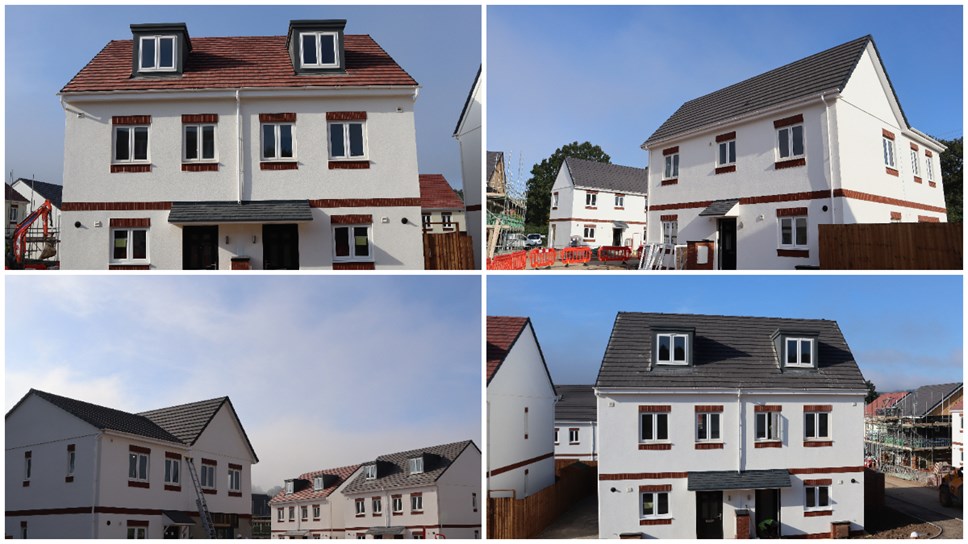 First Forest of Dean modular housing scheme nears completion in Drybrook
The first modular housing development in the Forest of Dean is nearing completion at Mannings Farm, Drybrook, with the first residents expected to move in in early December.
The development which is owned and managed by The Guinness Partnership was supported by a £45,000 contribution from the Forest of Dean District Council and Strategic Partnership funding from Homes England and is the [JB1] first development in the new, nationwide partnership between Guinness and ilke Homes.
Fifty-one factory-built homes were manufactured by ilke Homes, the UK's leading modular house builder, at the company's 250,000 square foot factory in Knaresborough, North Yorkshire, before being transported to the site in Drybrook. The first houses arrived in April and the development aims to be completed in March. The modular homes will be joined by six traditionally built flats.
Mannings Farm offers a range of options for new residents from one-bedroom apartments up to four-bedroom houses, and consists of 65% for affordable rent and 35% shared ownership tenures.
Cabinet Member for Housing, Cllr Claire Vaughan, said,
"It has been great for the District Council to support this innovative housing project, which is the first of its kind in the Forest of Dean, and will be providing more than 50 new homes, including 37 new affordable rental properties in a great location for families."
The modular homes have achieved a 'B' Energy Performance Certificate (EPC) rating, the second most efficient rating available, with ilke Homes' stating that it takes around 20% less energy to heat its modular homes than new traditionally constructed properties*.
Cabinet Member for Climate Emergency, Cllr Chris McFarling, said:
"Buildings currently account for around 40% of carbons emissions in the UK and 60% of all waste. We are hoping that these homes stand as a testament to our commitment to be carbon neutral as a district by 2030. Not only have they been constructed using more energy and economically efficient processes, but thanks to their B EPC rating, it will also mean that less energy will be needed to heat the homes through the winter."
Jon Milburn, Group Development Director at The Guinness Partnership, said:
"We are delighted that the development at Mannings Farm is almost complete. Working with ilke Homes means that we are able to deliver much needed, high-quality affordable housing more quickly to the Forest of Dean."
Applications are now open for the homes on Mannings Farm, with nine of the shared ownership properties already reserved, and allocation for the affordable housing taking place over the next couple of months.
The estate is located on the edge of Drybrook village, adjacent to Drybrook's Rugby Football Ground with a bus stop on the main road outside the estate, connecting residents to Gloucester and Cinderford.
Contact Information
Forest of Dean Communications Team