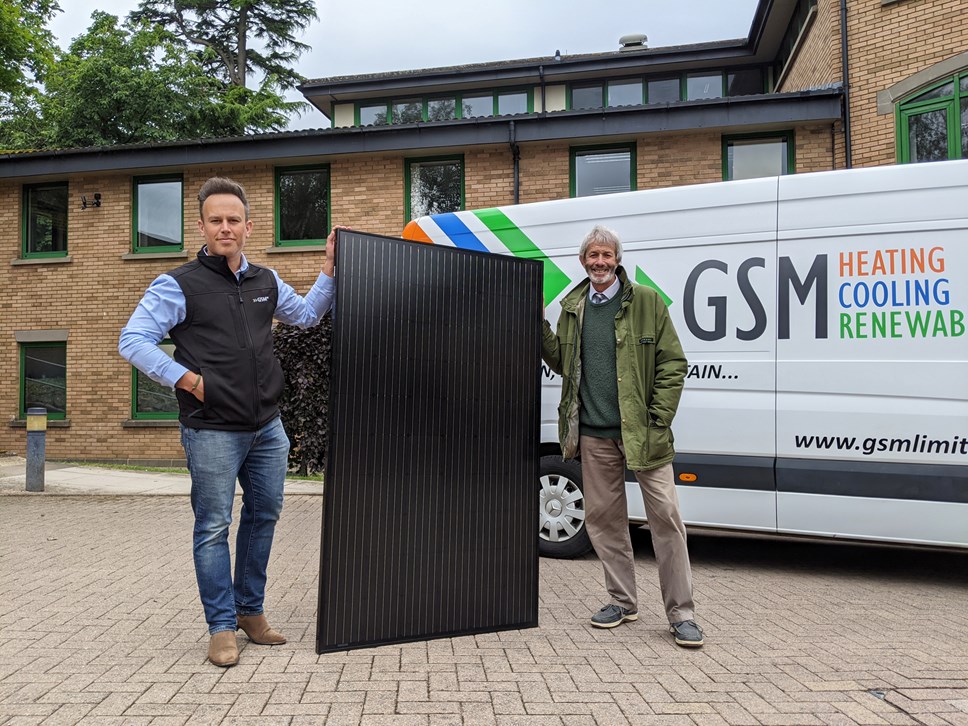 Forest of Dean District Council hits the roof as it pushes forward with carbon reduction plans
Energy captured from the sun will soon help power the Forest of Dean District Council's offices in Coleford, bringing projected savings in the region of 10k in electricity costs and reducing the Council's carbon footprint by around 20 tonnes every year.
Solar photovoltaic (PV) panels will be fitted to the roof of the council building following a competitive tender exercise, with Newent-based firm GSM Limited, contracted to undertake the works.
The installation is just one measure the District Council is putting in place to achieve a net-zero carbon target across all its assets and operations by 2030, following its Climate Emergency Declaration at the end of 2018.
Councillor Chris McFarling, Cabinet Member for Climate Emergency at the Forest of Dean District Council, said: "We are delighted to be working with a local company on this project which will see the Council offices become increasingly more sustainable and is the next step in our race for all council-managed operations to be carbon neutral within the next 9 years.
"The PV panels are expected to deliver annual carbon savings, the equivalent of taking four cars off the road, which is great news.
"While our target to be net-zero is ambitious, the climate emergency is here and we need to achieve our desired result sooner rather than later. Going forward, our programme for decarbonisation is set to include replacing the existing lighting at the Coleford offices to low-energy LED alternatives, which will happen later this year, and retro-fit the swimming pool building at Lydney's leisure centre. We want to show what can be done to save carbon and costs, and hope other organisations will copy our example."
The cost of the PV upgrade is largely funded by a Public Sector Decarbonisation Scheme (PSDS) grant, awarded to the District Council from the Department for Business, Energy and Industrial Strategy.
Councillor Richard Leppington, Cabinet Member for Finance at the District Council, said: "While we are in the fortunate position to have received funding upfront to help with the installation costs, projects such as this one clearly demonstrate that investing in renewable energy sources can make financial sense for businesses and make a very positive contribution in reducing CO2 emissions. In addition to providing real cost-savings for the Council, and ultimately taxpayers, we hope local firms will recognise the benefits of switching to green tariffs and taking up sustainable energy options and start making changes in their own businesses if they haven't already done so.
"Climate-conscious decisions have been made at each stage of the procurement process without having to compromise on quality, value or expertise. Appointing a local contractor experienced in renewable energy solutions to carry out the work not only supports Forest of Dean jobs and our economy, but by limiting transport related emissions, we can expect to drive down the carbon associated with the project further."
Currently 46% of the Council's greenhouse gas emissions are the result of gas and electricity used to power and heat its offices and leisure centres.
The new PV system includes a battery that will allow excess generated electricity to be stored for use at times outside of peak sunlight hours. The battery will also have the capability to store cheaper, off-peak electricity supplied by the grid, for use later on during peak hours.
The works should be complete by the end of August.
The PSDS grant enables public sector bodies such as schools, universities and NHS Trusts, as well as local authorities, to drive forward projects that provide energy efficiency and heat decarbonisation, helping lower the carbon footprint of public buildings.
Contact Information
Forest of Dean Communications Team
Notes to editors
Photo shows: (l-r) David Pratt, Technical Director, GSM Limited and Cllr Chris McFarling, Cabinet Member for Climate Emergency, Forest of Dean District Council
The Council CO2 emissions have reduced by 30% in the last 8 years.
The Council is currently working with a number of community partners and stakeholders to support a climate action group to work collectively and share best practice on initiatives across the district that will deliver positive carbon benefits.
GSM Limited provide domestic and commercial renewable energy solutions across Gloucestershire, Herefordshire and Worcestershire. Details can be found at: www.gsmlimited.com