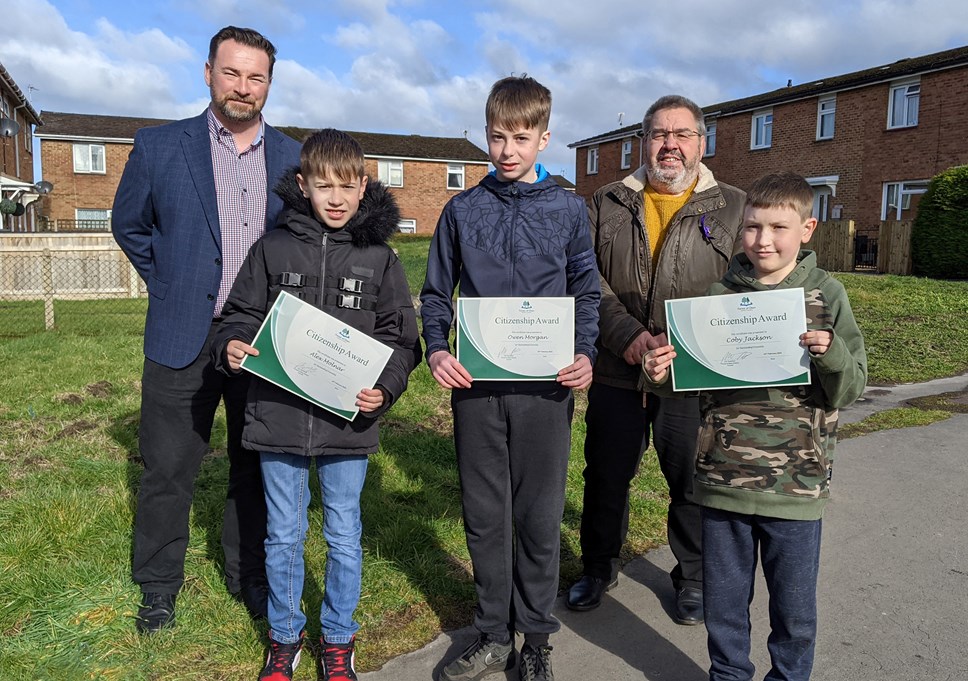 Forest of Dean District Council honours youngsters in Cinderford with citizenship award
Forest of Dean District Council has honoured three boys in Cinderford with a special Outstanding Citizenship Award for their work during the winter months, clearing snow for residents in the area and helping to keep their local community moving during the difficult time.
Deputy Leader of Forest of Dean District Council and Cabinet Member for Communities, Cllr Paul Hiett said:
"The work done by these young people in the area was fantastic to hear about, and shows that the community spirit that we value so much in the Forest of Dean is alive and well in towns and villages across the district.

"I hope that the special award that we have provided shows just how appreciative we are of the community spirit shown during the winter months and hope that this can inspire residents both young and old to do similar acts of kindness for others in the community.

"I'd like to thank those involved again and the officers who have helped to put together the award and presentation. Anyone who would like to nominate someone for this award in future, please reach out to our Community Builders Team for assistance."
The three involved, Owen Morgan, Coby Jackson and Alex Molnar, all from Cinderford, cleared a great number of paths and driveways during the snow before Christmas, to enable safe access for people near to where they live.
The three youngsters decided to do this after clearing the path of an elderly neighbour and it 'snowballed' from there, spending three days clearing paths for others in the area to enable their community to keep moving safely.
Community Safety Lead at Forest of Dean District Council, Damion Collins said:
"It's our pleasure to honour these three youngsters with the Outstanding Citizenship Award from Forest of Dean District Council.

"The initiative and spirit shown to help others in the area was fantastic to see and hear about and we'd encourage others in the area who'd like to nominate someone for this award in future to get in touch."
People who would like to nominate residents in the Forest of Dean who they think have shown outstanding citizenship can do so by emailing their nominations to the Community Builders Team at Forest of Dean District Council at the following email address: Community.Builders@fdean.gov.uk
Contact Information
Forest of Dean Communications Team