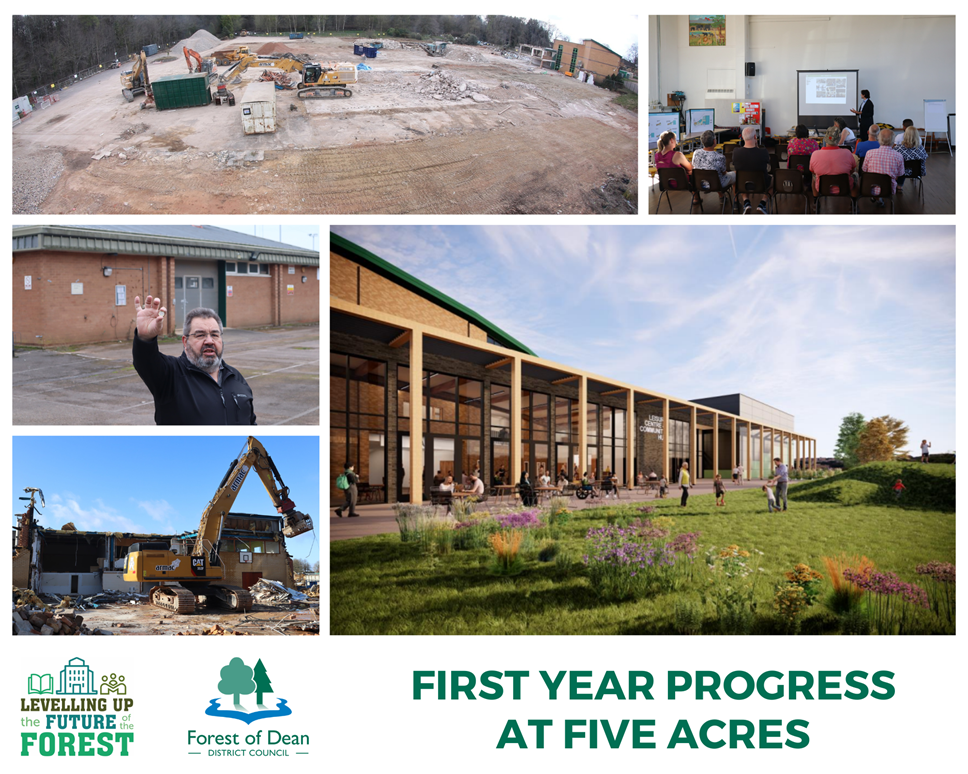 Forest of Dean District Council marks first year progress at Five Acres
Forest of Dean District Council has been working with partners, businesses and residents throughout 2022 on the redevelopment and design of the new leisure, enterprise and education facility at Five Acres.
Leader of Forest of Dean District Council, Cllr Tim Gwilliam said:
"Since the beginning of 2022 when the purchase of Five Acres was completed, the Council have been hard at work to ensure that the redevelopment of this fantastic site is completed on time and in a sustainable manner, as well as delivering the quality facilities needed by people in the local community.

"It is extremely important to us at Forest of Dean District Council that not only are the needs of residents in the local area met, but also that the development enriches the entire District. The Five Acres programme board continue to work tirelessly and have already held numerous drop-in events and open forums, as well as online Q&A sessions so that residents are able to voice their opinions on the proposed plans.

"I'd like to take this opportunity to thank everyone who has been involved so far, as it is through collaboration such as this that we can deliver the best possible facility at Five Acres. This type of Partnership working will also be key to future regeneration projects throughout the District.

"2023 will be another big year in the redevelopment of Five Acres and now that demolition has been completed, we will continue our work with design consultants Pick Everard, as well as residents, local sports clubs and businesses to bring those design plans to fruition."
The demolition of the site by Armac Demolition Group, including the removal of asbestos, was completed in October 2022. Using workers in the area, local contractors and equipment hire, Armac Group have spent over £170,000 of their Levelling Up funded contract in the Forest of Dean economy.
The redevelopment at Five Acres will now begin its next phase, with consultants Pick Everard and Officers and Members of Forest of Dean District Council continuing their work with the local community to finalise the designs of the new centre, before building can begin.
The new facility at Five Acres will be completed in phases, with the initial phase focusing on dryside sport and leisure facilities through the repurposing of the Speedwell building, building a new multi-purpose four court sports hall/performance space, party rooms/dressing rooms and separate changing rooms - all with car parking, including electric vehicle charging points.
After holding public consultation events with residents across the district, Forest of Dean District Council have also earmarked space at the site for a potential swimming pool should funding be secured.
Deputy Leader of Forest of Dean District Council and Cabinet Member for Communities, Cllr Paul Hiett said:
"This year has seen great progress with the removal of the old and unsafe buildings and asbestos from the site at Five Acres.

"It is fantastic to see how quickly the project is moving and I'm looking forward to seeing even more progress in 2023 to make this new facility a reality.

"As we have done throughout the past 12 months, we'll be hosting further drop-in events and creating a Community Forum in 2023 and will be hosting these both in-person and online so that residents have the opportunity to have their say on the plans at Five Acres. Further information will be provided in due course.

"I'd like to take this opportunity to thank all officers, businesses and residents who have been involved with the project so far and look forward to further progress in the next 12 months."
Full details for the Five Acres site redevelopment, as well as documents including the initial designs and from previous public forum events can be found at the link below:
https://www.fdean.gov.uk/planning-and-building/regeneration/five-acres-redevelopment-site/
Contact Information
Forest of Dean Communications Team