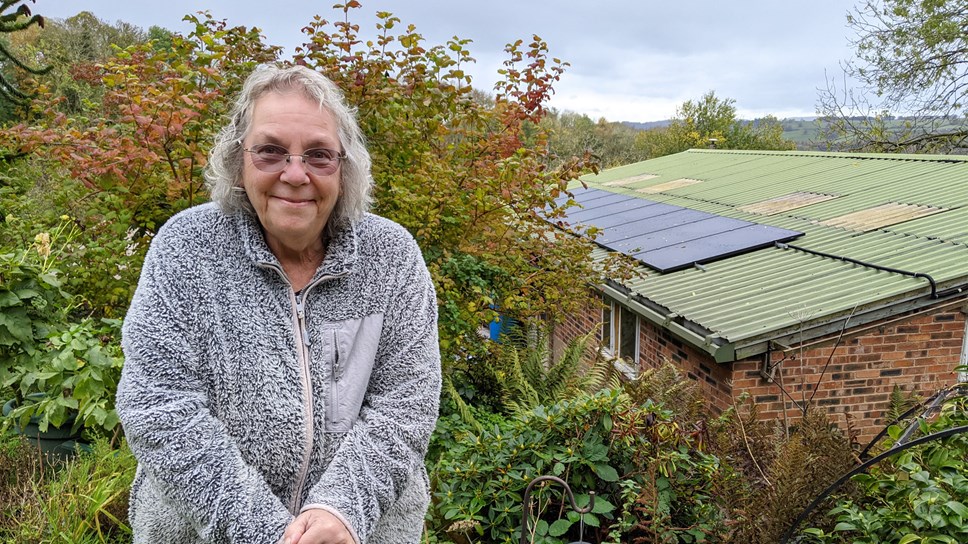 Forest of Dean property first off-gas home in Gloucestershire to receive energy efficiency upgrade
A Ruardean farmhouse is the first home in Gloucestershire to receive free energy-saving measures under the latest phase of the government-backed Home Upgrade Grant (HUG), which is being delivered locally by energy efficiency advice service Warm and Well.
The homeowner whose property received the new upgrades say they are "absolutely delighted with the service" and since the fitting of new solar panels their property's running costs have been transformed.
Councillor Chris McFarling, Cabinet Member for Climate Emergency at Forest of Dean District Council, said: "We're thrilled that a household here in the Forest of Dean is the first to benefit from lower energy costs thanks to the measures paid for under the current rollout of the Home Upgrade Grant. With more households already going through the process, more Forest of Dean residents are set to benefit. But continuing high energy prices mean there are many more households in the district facing fuel-poverty and the prospect of another cold and expensive winter. Grants like the Home Upgrade Grant can provide real peace of mind for those living in some of the district's hardest to heat homes by making their homes more affordable to heat and power, while lowering their carbon emissions so they are sustainable in the long run."
Following a successful bid by local councils for HUG funding, a pot of £6 million has been put aside to help homeowners across the county and South Gloucestershire install measures that will make their properties warmer, more cost-effective and healthier to live in.
To be considered for the energy-performance upgrades, householders must not have connection to mains gas heating and live in an energy-inefficient home with an Energy Performance Certificate (EPC) rating of D or lower. Properties without a current EPC can still apply and will be assessed as part of the application process. The funding is open to those with a combined household gross income below £31,000 or who receive means-tested benefits.
Local resident, Mary Thorpe whose property received the new energy-saving measures, said: "I am absolutely delighted with the service provided. Warm and Well did a thorough survey and came up with short, medium, and long term plans for improvements. The work to fit the solar panels was extremely efficient - a great team of friendly guys who completed the job in under five hours! They took away their rubbish and tidied up too. A great job all round and I'm enjoying watching my smart meter giving power back for a change!"
Warm and Well's Home Upgrade Grant project manager, Helen Curley said: "We're delighted to be offering the second phase of the Home Upgrade Grant which will provide many households across Gloucestershire and South Gloucestershire with urgent upgrades to their insulation and heating systems, including renewable technologies."
Successful applicants will receive a property survey with the energy improvements that will make the biggest difference to the efficiency, comfort and cost of powering the property being installed.
Householders can benefit from a wide-range of energy-saving technologies and receive home improvements worth tens of thousands of pounds, fully funded by the government for those owning their own home.
These include insulation, solar panels, high heat retention storage heating, air source heat pumps with many people being offered more than one upgrade.
Private landlords with less than 4 properties can also apply for the funding but are required to cover a third of the cost of the upgrades. The eligibility for the scheme is based on the tenants' circumstances.
Anyone wanting to apply or get more information about the Home Upgrade Grant can call the Warm and Well advice team on 0800 500 3076 or visit warmandwell.co.uk/upgrade, or can check their eligibility first by answering a few simple questions at the government's new online eligibility checker: www.gov.uk/apply-home-upgrade-grant
Contact Information
Forest of Dean Communications Team
Notes to editors
Photo shows: Ruardean resident Mary Thorpe
The first phase of Sustainable Warmth funding (which has now closed), incorporated the first phase of the Home Upgrade Grant and also the Local Authority Delivery grant. Sustainable Warmth helped 150 homeowners in the region through the installation of 308 measures.
Warm and Well is delivered by Severn Wye Energy Agency on behalf of a number of local authorities, including the Forest of Dean District Council. The service provides free energy efficiency advice, delivered through a team of trained advisers, and can provide help with accessing grants to improve home energy performance such as installing insulation and draught-proofing to make homes warmer and healthier, retrofitting renewable energies to bring down household running costs and finding the most favourable energy tariffs available.