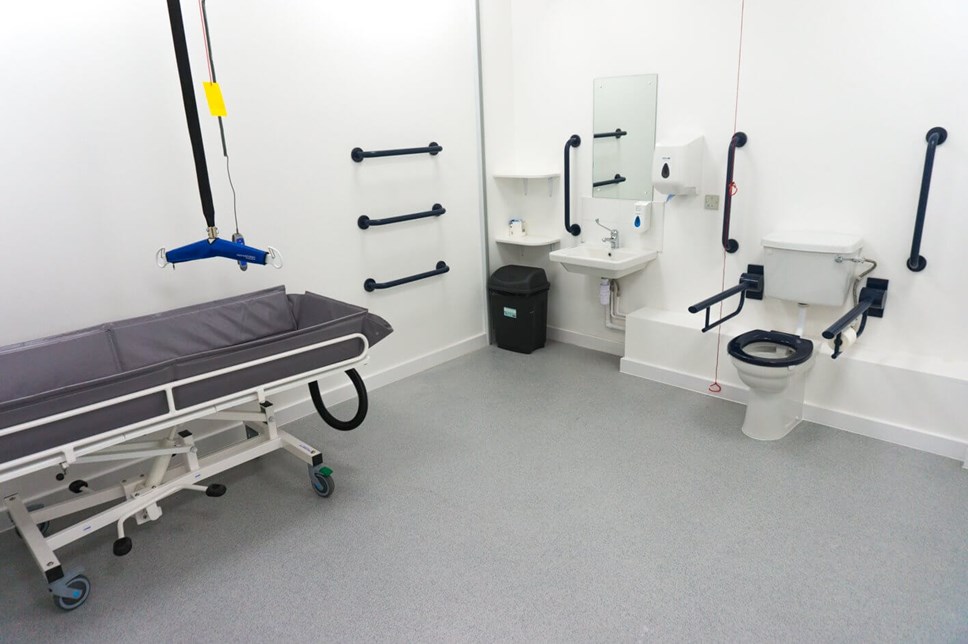 Forest of Dean to get four new Changing Places accessible toilets
Forest of Dean District Council has been allocated £140,000 from the Government to install four fully accessible Changing Places toilet facilities in the district.
The four facilities will be installed at Cinderford Town Council's Rheola House and former HSBC bank, at the Orchard Trust in Lydbrook and within the District Council's Community Sports Hub being planned at the Five Acres site. The Cinderford town centre and Berry Hill locations will complement the Levelling Up Funding already secured for these locations.
Changing Places toilets are larger accessible toilets for people who cannot use standard accessible toilets and have equipment such as hoists, curtains, adult-sized changing benches and space for carers.
Cabinet Member for Communities, Cllr Paul Hiett, said,
"We are continually looking for ways that we can make the Forest of Dean more accessible for all, and the Changing Places toilets are a great way to enhance this accessibility and make life easier for those in need.

"This will also form a key part of our redevelopment of the Five Acres site enabling more people to enjoy the facilities when they are completed. Thank you to our dedicated officers who worked hard to pull this bid together with The Orchard Trust and Cinderford Town Council"
A spokesperson from Cinderford Town Council said,
"Changing Places toilets will make an important difference to all who live in and visit the Forest of Dean. Cinderford Town Council are delighted funding has been secured by FoDDC and this much needed facility will be available at both the former HSBC Bank and Rheola House."
Cinderford Town and District Councillor Di Martin said,
"We have waited a long time to get such a fantastic provision in the Forest. I am proud to think Cinderford Town Council has taken the initiative to provide a much needed facility in our Forest town."
Cathy Andrews, CEO of Orchard Trust, said,
"We are very excited about this news. A Changing Place will be a fantastic addition to the range of accessible facilities our Stowfield site offers to disabled people in the Forest of Dean and visitors to the area. We work hard to support disabled people to be the best they can be and enjoy the forest environment. This new facility will allow many more people to enjoy a day out knowing the support they need is there for them."
A modular Changing Places toilet will be installed at The Orchard Trust in Lydbrook and will be accessible to people using the site, their day service clients and people visiting the area who may need to use the facility. This toilet is expected to be installed by the end of summer 2022.
In Cinderford, there will be two Changing Places toilets, one at the former HSBC site that will be operated by radar key, enabling it to be accessible at all times and is expected to be completed in winter 2022. The other will be installed at Rheola House and is anticipated to be completed in autumn 2022.
The fourth changing places toilet will be installed at the former Speedwell building at Five Acres which is currently undergoing wider site demolition. Renovation and conversion of Speedwell will create the new accessible Community Leisure Hub which is anticipated to open December 2022.
The funding was confirmed in The Chancellor's Spring Statement where over £23.5 million has been allocated to 191 councils across England to install more than 500 new Changing Places toilets.
Contact Information
Forest of Dean Communications Team