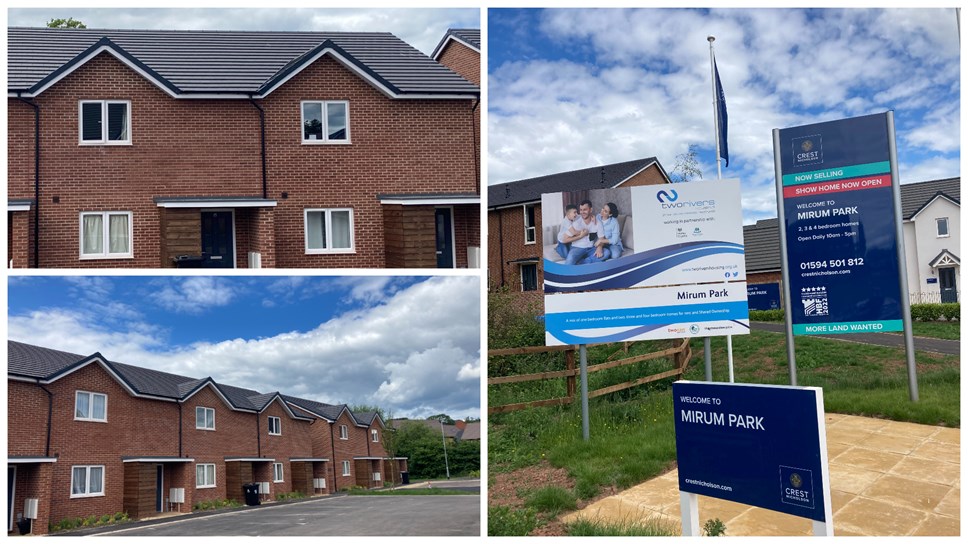 Fourteen new affordable homes delivered at Lydney development
Two Rivers, a registered provider partner of Forest of Dean District Council, received hand-over of fourteen new affordable homes in March and April. The homes consist of twelve one-bedroom flats for social rent and two three-bed shared ownership homes at Mirum Park.
Cabinet Member for Housing, Cllr Claire Vaughan, said,
"With the cost of living continuing to increase and the demand for housing increasing as well, not only here in the Forest of Dean, but across the UK, it is encouraging to see that affordable homes continue to be a key part of developments shaping up in our district."
Located at the top of Highfield Hill in Lydney, Mirum Park is a mixed residential development. Crest Nicholson will be developing up to 148 homes on Mirum Park, including 44 new affordable homes (30% of the total) and which are set to be completed in spring 2024.
When completed, the 44 affordable homes will consist of 29 homes for social rent and 15 for shared ownership, the option that allows people to take a step towards home ownership through part-rent, part-buy. These homes will include a mix of property types, from one-bedroom flats through to large four-bed family housing.
Residents who are interested in affordable housing for rent are advised to register with Homeseeker Plus, via https://www.homeseekerplus.co.uk
Residents interested in getting on to the housing ladder through shared ownership, are advised to register with Help to Buy Agent 3, via https://www.helptobuyagent3.org.uk/
Contact Information
Forest of Dean Communications Team