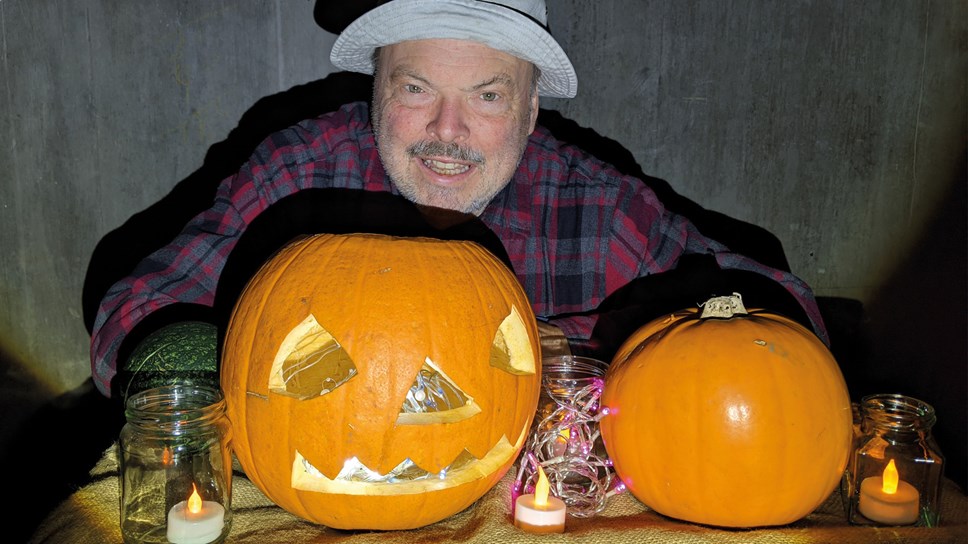 Getting to the guts of Halloween food waste
With an estimated 15.8 million pumpkins expected to be thrown away in the UK following this year's Halloween festivities, Forest of Dean District Council is encouraging residents to compost or recycle their jack-o'-lanterns to cut waste and help reduce the environmental impact on the planet.
According to environmental charity Hubbub, over half of the 30.4 million pumpkins likely to be purchased this year will go uneaten with 41% of the public uncertain whether pumpkins labelled as 'carving pumpkins' by supermarkets are suitable to be consumed.
Councillor Andy Moore, Cabinet Member for waste and recycling at Forest of Dean District Council, said: "While pumpkins are synonymous with Halloween, we're asking residents to consider the extra waste created at this time of year and to reduce, reuse and recycle where they can. Pumpkins are more than just a decoration but an extremely versatile fruit with every part, bar the stalk, completely edible. So one simple thing families can do to cut down on Halloween waste is to use their pumpkins up rather than throwing them out.
"Analysis of what ends up in the district's refuse shows that too much food waste needlessly goes in our rubbish bins. If eating the pumpkin isn't an option, the next best thing is to either compost it at home and as a last resort recycle it using the council's weekly kerbside food waste service. With the average medium-sized pumpkin weighing in at 3kgs, if everyone chose one of these three options over 100 tonnes of food could be prevented from being wasted."
Uncarved pumpkins can last for many months if stored in a cool, well-ventilated place.
Both raw and cooked foods, including pumpkin guts, seeds and flesh, can be recycled using the weekly kerbside food waste service. The District Council is reminding residents that larger pumpkins need to be reduced in size so that they fit inside the food caddy, removing any tea lights and wax first.
Householders needing a food waste caddy can pick one up from the Council's Reception in Coleford or order one online: https://www.fdean.gov.uk/orderabin. Residents can line their kitchen caddy with newspaper, compostable bags or unwanted plastic bags, such as old carrier bags and used bread bags.
Gloucestershire residents can currently pick up a 330 litre compost bin for as little as £10 through Gloucestershire Recycles, the countywide waste reduction campaign. To order a bin simply call 0844 571 4444 or buy online at: https://getcomposting.com/. A £6.99 delivery charge applies.
To find recipes to use up pumpkin leftovers visit: https://www.lovefoodhatewaste.com/
Contact Information
Forest of Dean Communications Team
Notes to editors
Photo shows: Councillor Andy Moore, portfolio holder for waste and recycling, Forest of Dean District Council.
According to environmental charity Hubbub: 30.4 million pumpkins will be brought for decorating with 15.8 million of these set to be wasted (the equivalent of £26.7 million worth of edible food).
Food waste in Gloucestershire is processed at Andigestion's anaerobic digestion facility at Bishops Cleeve
Forest of Dean residents recycle over 2,500 tonnes of food waste each year.