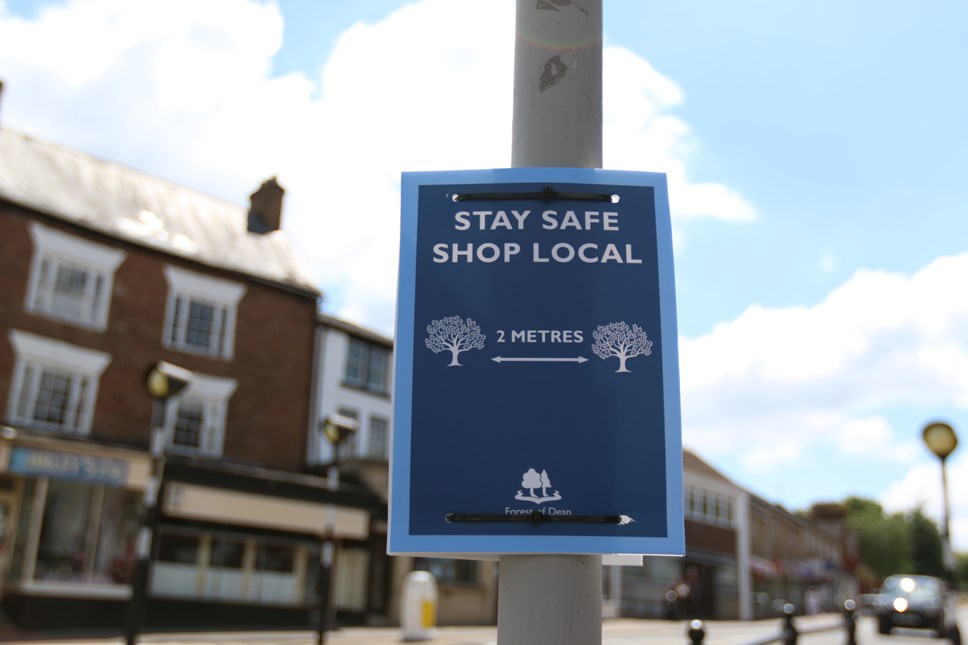 Give us your view on the Town Centre temporary changes
The Government's lifting of lockdown restrictions to enable non essential shops to reopen was based on a set of guidelines aimed at making pedestrian use of our High Streets as safe as possible. We have made a series of temporary changes to town centres in consultation with town councils. These changes follow those government guidelines on opening business while preserving social distancing. Our challenge is that we don't just want businesses to reopen, we want them to stay open. The district cannot afford a second lockdown.
The Forest has been fortunate in that cases of Covid-19 have been limited here. Largely because people have strictly supported advice in lockdown. The loosening of lockdown has different challenges but the need for vigilance in protecting our own health and the health of the forest community remains. The Covid 19 Pandemic remains a very real threat to the Forest of Dean.
We put the temporary changes in place quickly to support businesses reopening and over the next few weeks we'll discover which work well and which need more work.
We are encouraging residents and traders to give us their view on what does and doesn't work and to make other suggestions on what would make them feel safe while using our town centres.
Cllr Di Martin, Cabinet member for Town Centres says "Whilst encouraging people to use our local shops and facilities, the safety of our residents and visitors is paramount. Covid-19 has not gone away and we are very concerned that a further lockdown of our residents would be more damaging to our local businesses than these temporary measures."
Cllr Paul Hiett, Cabinet member for Community says "Consultation on the measures that have been introduced has taken place with Town Councils. Again I would emphasise the most important aspect is to keep residents as safe as possible and allow them to socially distance as they shop."
Contact Information
Forest of Dean Communications Team