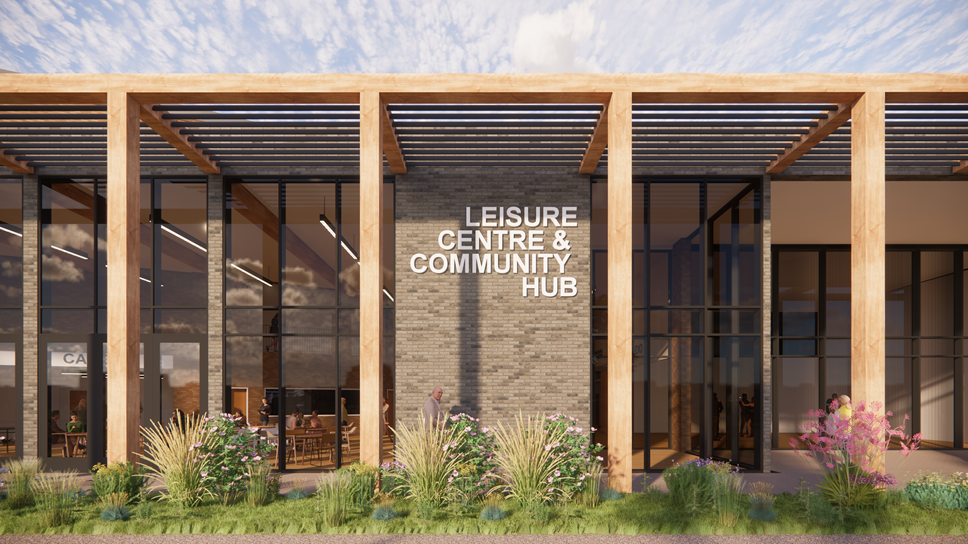 Milestone reached at Five Acres with planning submitted for new leisure, business and education facilities
The construction of the new leisure, enterprise and education facility at Five Acres in Berry Hill has taken a significant step forward, with planning now submitted, enabling residents and members of the wider Forest community to view and comment on the plans on the Council's planning portal, under reference P1435_23_FUL.
Cabinet Member for Levelling Up at Forest of Dean District Council, Cllr Johnathan Lane said:
"It's great to have reached this important milestone on this project, with a planning application now submitted and available for statutory consultees and residents to view on the Council's planning portal.

"Since taking control of the site in early 2022, the Council has worked hard with residents, businesses and partners, including demolition experts Armac, architects AHR, project and cost consultants Pick Everard and leading construction and property developer BAM to ensure that the project is built on time and is something that residents across the Forest can be proud of.

"The regeneration of Five Acres is hugely important for the local and wider community in the Forest and for ourselves here at the Council. When completed it will bring about life changing benefits for many residents, delivering leading sport and education facilities and returning the site to a community asset that people of the Forest can be proud of.

"With the planning application now available on the planning portal, we are demonstrating how we have listened to earlier feedback during the design process. We welcome the thoughts and comments of residents across the district to help us move forward together and deliver the best possible facilities for the people of the Forest of Dean."
The project at Five Acres will be completed in phases, with the initial phase focusing on dryside sport and leisure facilities through the re-purposing of the Speedwell building, constructing a new multi-purpose four court sports hall/performance space, party rooms/dressing rooms and separate changing rooms.
Sustainability has been a key priority throughout the design process, with carbon reducing measures such as solar panels due to be installed and energy saving solutions incorporated such as roof insulation and timber cladding to prevent heat from escaping in winter and to help keep the buildings cool in summer. Car parking at Five Acres will include electric vehicle charging points. A secure cycle hub is to be installed to assist with active travel solutions to serve both Five Acres High School staff and students and users of the wider site.
Cllr Johnathan Lane added:
"A development such as the one at Five Acres does take time and we'd like to thank residents for their interest and patience as this project has progressed. The feedback and comments that we've received from the community has been invaluable in shaping the designs for Five Acres and we look forward to seeing those plans come to life.

"We'll be holding further community forum events in the future to discuss the progress of the development with Forest of Dean residents, as well as working with BAM to ensure local businesses and sub-contractors have the opportunity to compete for various work packages to develop this fantastic community facility."
Details for the planning application can be found on the Forest of Dean planning portal, by searching reference number P1435_23_FUL at the following link: https://publicaccess.fdean.gov.uk/online-applications/
Full details for the Five Acres site redevelopment, as well as documents including designs and comments and questions from previous public forum events can be found at the link below:
https://www.fdean.gov.uk/planning-and-building/regeneration/five-acres-redevelopment-site/
Contact Information
Forest of Dean Communications Team