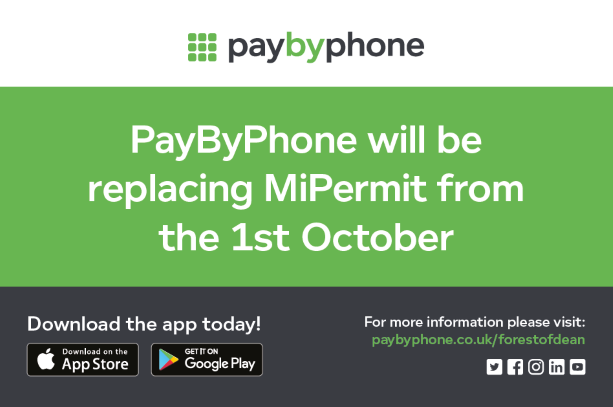 New free app makes it quick and easy to pay for parking
Parking is now quicker and easier than ever thanks to a new app being launched by Forest of Dean District Council.
PayByPhone, which replaces the previous MiPermit app from 1 October, is free to use. The 10p admin charge has been scrapped.
PayByPhone is one of the largest providers of cashless parking services in the UK and many residents and visitors will already have the app installed on their smartphone.
Cllr Claire Vaughan, Cabinet Member for Town Centres, said: "The new PayByPhone parking app is very convenient and a good idea, especially if you get stuck in a queue in a shop or stay behind at work and can't get back to your car on time.
"You can update the payment from wherever you are. The app also has built in time reminders for those that worry about when a ticket expires. No more fussing about queuing on a rainy day and worrying if you have the right change."
Once loaded onto your device, PayByPhone is simple to use. Drivers enter the location number of the car park, select how long they want to stay and confirm their payment.
The app also has a range of features including a handy reminder telling you when your parking period is due to end, multiple payment methods and 24/7 support service (also available by phone free of charge).
Those residents who do not have a smartphone can rest assured that they pay by cash or card.
Users of the MiPermit app will need to download the PayByPhone App if they don't already have it to park in our car parks from 1 October. Download now from the App Store (iOS) or Google Play (Android), so you can use it when you're next parking in one of our car parks.
Ends
Contact Information
Forest of Dean Communications Team