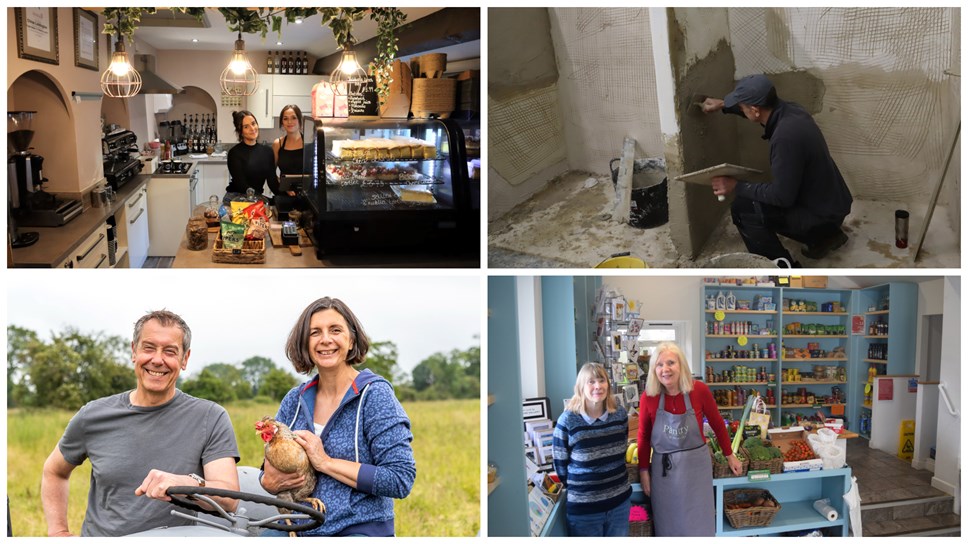 New round of grants announced for local business start-ups
Businesses and social enterprises that incorporated after April 2020 are invited to apply for grants of up to £1,000 from Forest of Dean District Council.
The next round of applications for start-up grants closes on 30 June 2022. With subsequent rounds throughout the year closing 31 August, 31 October, 30 December and 28 February.
Cabinet Member for Economy, Cllr Bernie O'Neill, said,
"We had a great first run with our start-up grant scheme last year and were able to support some fantastic new businesses and social enterprises in the district.

"To see new businesses launch successfully right here in the Forest of Dean, after the difficulty of the pandemic has been incredible. We are pleased to say that we are able to continue with this scheme and will have grants available to new and eligible businesses to help them grow and prosper, hopefully for many years to come."
Grant funding is offered on a match funding basis, so to apply for the full £1,000 grant award a business will need to be investing at least £1,000 of their own funding to qualify.
The grants can be used towards a variety of activities, including research and development, installing clean technologies, staff training, equipment purchases and product launches. Home-based businesses are not eligible for the grants.
To find out the exact eligibility criteria, apply for a grant and discover other available funding options, visit https://fdean.gov.uk/business-and-licensing/business-support-and-advice/finance-and-funding/
So far the scheme has awarded more than £12,000 in grants to support the growth plans for a total of 13 local businesses or social enterprises. The scheme has been extended until 28 February 2023, with an additional £20,000 Council funding support. Based on the range of grant awards already approved, the funding could stretch to support a further 25 new businesses in the district.
Case study: The Pantry, St. Briavels
The Pantry is a community village shop and deli providing local produce and kitchen staples for residents and visitors to the mediaeval village of St Briavels.
In 2021, a start-up grant was given to the shop to help provide a computer system to introduce electronic point of sale and stock management
Mark Walton, Volunteer Committee Member of The Pantry, said,
"The Council grant was a great help which allowed us to install an electronic point of sale system during our first year of operation. This has been invaluable in enabling us to produce itemised receipts and having an efficient stock management system. Although it took some time for our staff and volunteers to get used to it, we couldn't now envisage being able to run the shop without it and has certainly contributed to a successful first year of operation."
Case Study: Hope Farm Retreats, St. Briavels
Located on the edge of St. Briavels, Hope Farm Retreats offers glamping in a wildflower meadow as well as rural skills and craft workshops to visitors.
A start-up grant helped with the installation of composting eco-toilets for guests.
Jo Thompson, owner of Hope Farm Retreats, said
"Opening Hope Farm Retreats has been a passion project we have been working towards for more than 10 years. It was so rewarding to finally welcome our first guests last year and we can't wait to get going for our second season this May.

"The support we received from the council allowed us to work towards our goal of increased sustainability at the farm by helping to provide composting toilets for each of our glamping tents."
Case Study: Coco & Bliss, Lydney
Coco & Bliss is a dog-friendly coffee shop that opened last summer at the rear of 1 Hill Street in Lydney.
Chloe and Alyssa, owners of Coco & Bliss, said
"We can't believe it's been almost a year now since we first opened the doors to Coco & Bliss and the support we have received from the community since then has been amazing. The start-up grant from the council has also given us a big helping hand, allowing us to expand our indoor seating area and welcome in more customers.

"It's going to be an exciting summer with some new developments on the way for us, we can't wait to share them with people."
Case Study: CarringtonLime, Mitcheldean
CarringtonLime is a community interest company which opened last year at Stenders Business Centre in Mitcheldean. It specialises in heritage skills training and providing practical courses which include traditional lime plastering and pointing.
Ben and Kate, owners of CarringtonLIME, said,
"We had always wanted to set up training for people looking to learn traditional building skills such as lime plastering, but always struggled to find the time. Last year, we finally made the jump and set up CarringtonLIME Heritage Skills Training CIC, a dedicated school for traditional heritage skills and it has been amazing to see the interest so far, and to help homeowners, professionals and tradespeople learn how to maintain their period properties."

"A key part of our workshops are the practice walls, and the grant from the council helped fund the installation of our pointing and plastering practice walls."
Contact Information
Forest of Dean Communications Team