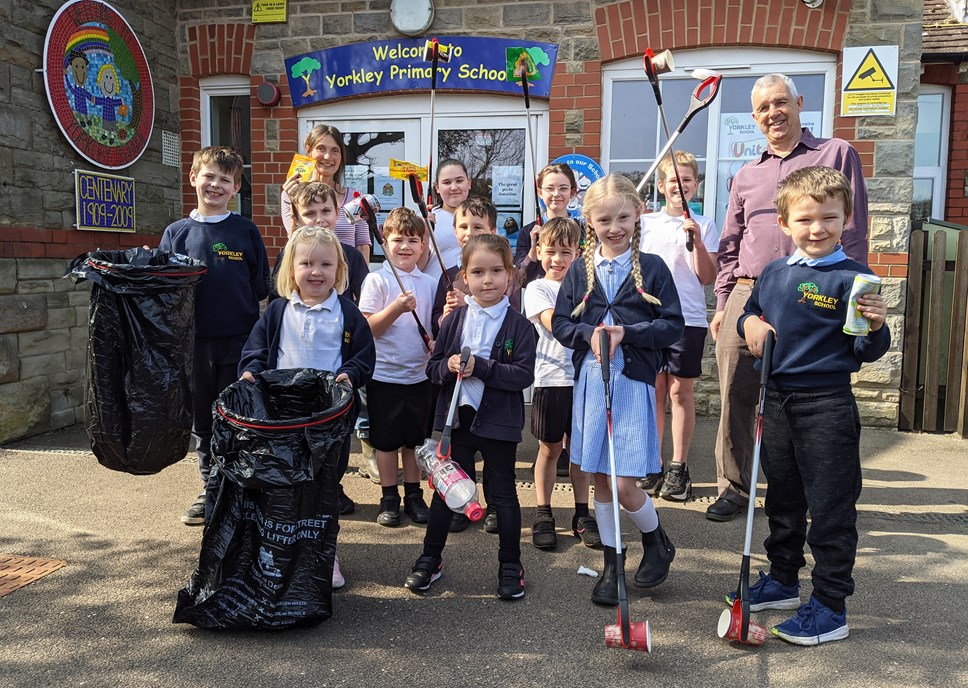 New school litter picking club gets underway during the Great Big School Clean
Concerns about the impact of litter on wildlife and the local environment, have led Yorkley School to organise its first lunchtime club dedicated to picking up other's rubbish to keep the Forest of Dean clean.
Set up after Stan, a Year 2 pupil at the school, voiced his worries about the amount of litter he saw - in particular discarded face masks, as well as low-level litter in the playground which hadn't always made its way into the litter bins provided - the new club has recently received a donation of litter pickers from the Forest of Dean District Council.
Councillor Sid Phelps, Cabinet Member for Environment at Forest of Dean District Council, said: "Stan's enthusiasm for looking after the environment around where he lives has been an inspiration to his classmates, his teachers and to us. So, when the school approached us about donating some litter picking equipment, we were delighted to oblige.
"Educating our younger generations not to drop litter and about the problems it causes, is one way to help break the cycle of littering and we hope the actions of Stan and the club to tidy up, will be a catalyst for others to get involved in looking after their communities and the open areas around where they live."
Lesley Payne, Year 2 Teacher at Yorkley School, said: "Pupils are encouraged to value their outdoor spaces and areas of the curriculum touch upon the impact that litter has on the environment, on wildlife and on human health so we've been really pleased to be able to launch the new club with the support of the District Council."
"We've recently signed up to take part in this year's Keep Britain Tidy's Great Big School Clean, which encourages children up and down the country to keep their neighbourhoods clean, so it's been wonderful to receive the new litter picking kit in time for us to take part and to enable pupils to pick up the rubbish they find safely."
Yorkley School has already achieved the Eco-Schools' bronze award and is currently taking the next steps to achieve the Green Flag standard.
Local primary and secondary schools interested in arranging a litter picking event, supported by the Council's Street Wardens team, can get in touch by emailing: street.wardens@fdean.gov.uk.
The Great Big School Clean - part of Keep Britain Tidy's annual Great British Spring Clean campaign - runs until 10 April.
Schools interested in joining others up and down the country who are clearing up where they live can pledge their support at: www.keepbritaintidy.org
Contact Information
Forest of Dean Communications Team
Notes to editors
Photo shows: Pupils from Yorkley School's litter picking club with their new litter grabbers with Councillor Sid Phelps, Cabinet Member for Environment, Forest of Dean District Council (far right).