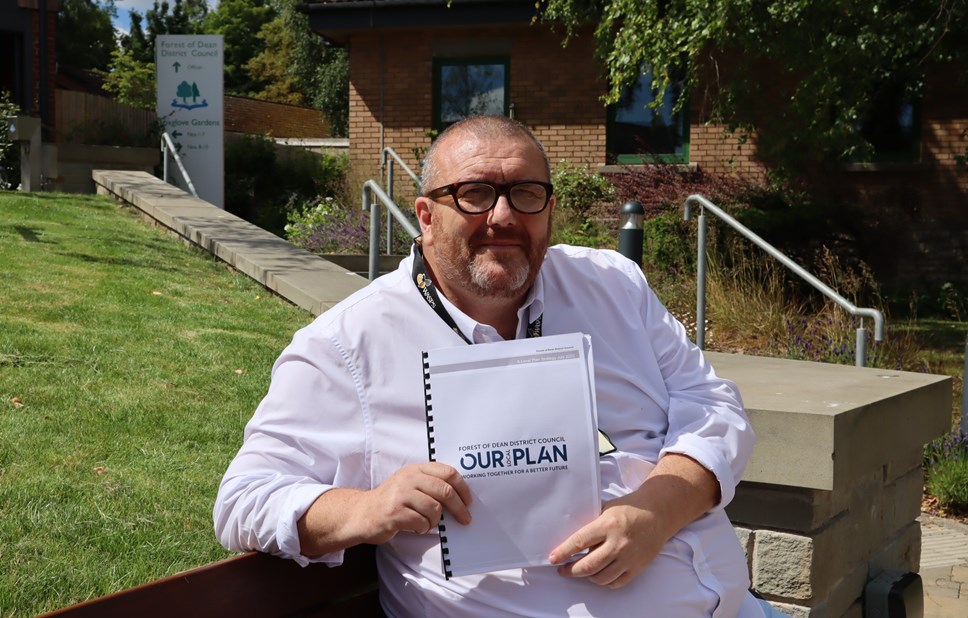 'Our Plan' draft Local Plan strategy to go to Cabinet
The Council's draft Local Plan Strategy - 'Our Plan' will be heard at the next meeting of the Forest of Dean District Council's (FoDDC) Cabinet on Thursday 14 July at 5.30pm.
The Cabinet will make a decision to go out to consultation on the plan and Councillor Tim Gwilliam, Leader of Forest of Dean District Council is urging residents to make sure they 'get the Local Plan they deserve' by taking part in a planned consultation which begins on Monday 1st August 2022.
The Local Plan should provide a positive vision for the future of the Forest of Dean and a framework for addressing housing needs and other economic, social and environmental priorities.
Leader of Forest of Dean District Council, Cllr Tim Gwilliam said:
"Through 'Our Plan' we want to look at the benefits that genuine regeneration alongside sustainable, viable and complementary development can bring to our communities, to businesses, to schools and other organisations. To our local sports clubs, to wildlife watchers, to artists, to tourists, to developers and to employees.

"If we want to do all those things, to create a 'place' where we want to live, to work and to enjoy, it can't just be about me, the Cabinet or Councillors. It can't just be about the planning department. It can't just be about houses and it can't just be about Forest of Dean District Council. It needs to be about everyone in the Forest of Dean."
The 'Our Plan' consultation is not just about where we deliver housing, but a holistic plan for growth, development and sustainability.
To meet the needs of the District over the plan period, the new 'Our Plan' Strategy will look to ensure that its policies and proposals do the optimum to address climate change and protect rural areas and landscapes, provide environmental protection, support biodiversity and nature recovery and provide new Green Infrastructure.
The draft strategy promotes Lydney as the largest of the forest towns and a true "Gateway to the Forest" with increased housing, employment, retail, leisure and supporting services. Improved access to the town and support for nearby settlements.
Included in the plan is support for towns and villages to take advantage of existing active travel networks and reinforce sustainable transport and travel opportunities.
It's important to achieve a high standard of sustainable design across the Forest of Dean District whilst addressing local housing needs, through the provision of a good housing availability, type and total supply. This includes affordable housing options in locations which benefit and support local services. The new 'Our Plan' needs to include about 7440 new dwellings for the whole district (with up to 40% of new dwellings already committed).
The plan provides for a range of employment and educational opportunities and ensures the policies and proposals support and encourage a strong local economy.
Cllr Gwilliam added:
"We have to have this plan, we have to deliver against the Government's housing targets, that is what is mandated. But, if we can do this as a community, and make sure that the plan is one we have driven, we have a chance to make it our own."
The consultation strategy document is available to view at https://meetings.fdean.gov.uk/ieListDocuments.aspx?CId=115&MId=4161&Ver=4
Contact Information
Forest of Dean Communications Team