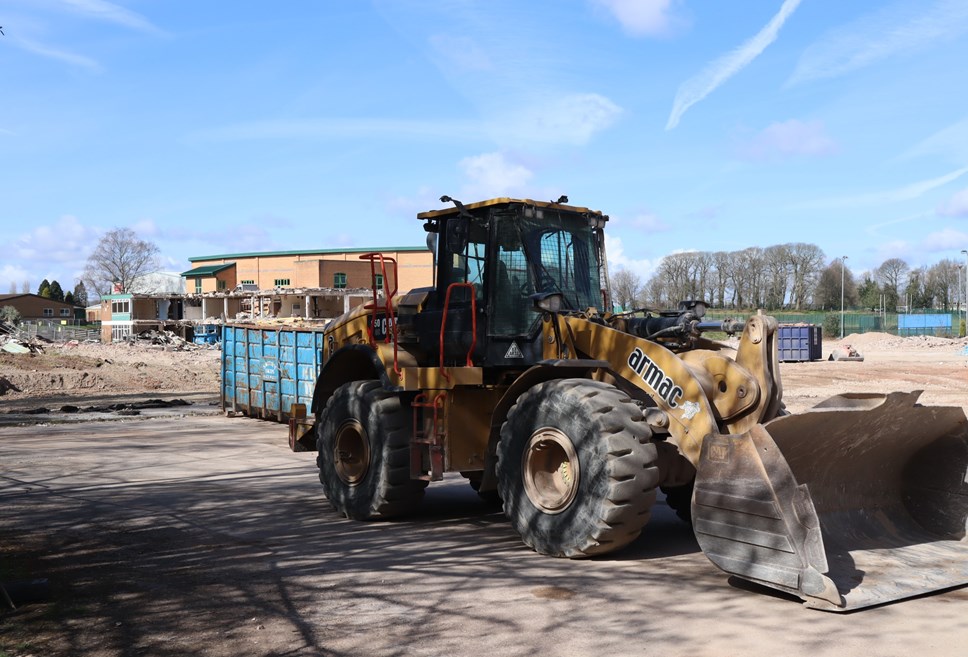 Over £170,000 Levelling Up funding recycled within the local community
Forest of Dean District Council have praised the demolition contractor tasked with the initial stage of redevelopment at Five Acres in Berry Hill for how they've helped to provide opportunities and give back to residents, communities and businesses across the Forest of Dean.
Deputy Leader of Forest of Dean District Council and Cabinet Member for Communities, Cllr Paul Hiett said:
"Armac Group has now successfully completed the demolition and clearance phase and brought Five Acres into a place where we can start the next phase of redevelopment. They have done so in a responsible and safe manner, completing a complicated task with as little disruption as possible to both the neighbouring school and residents of the area.

"The team have also helped provide for people and businesses in the community. Through the use of workers in the area, local contractors and equipment hire, Armac Group have spent over £170,000 of their LUF funded contract in the Forest of Dean economy.

"I'd like to thank the team at Armac Group for helping us with the beginning of our redevelopment at Five Acres and look forward to now finalising the design of the site and getting to work on building this fantastic new facility."
The demolition of the site, including the removal of asbestos is now complete and the redevelopment will now begin its next phase, with consultants Pick Everard and Officers and Members of Forest of Dean District Council working with the local community to finalise the design of the new centre.
The new facility at Five Acres will be completed in phases, with the initial phase focusing on dryside sport and leisure facilities through the repurposing of the Speedwell building, building a new multi-purpose four court sports hall/performance space, party rooms/dressing rooms and separate changing rooms - all with car parking to include a electric vehicle charging points.
After holding public consultation events with residents across the district, Forest of Dean District Council have also earmarked space at the site for a potential swimming pool should funding be secured.
Regeneration Manager at Forest of Dean District Council, Wendy Jackson said:
"Having appointed Armac Group as the demolition contractor at Five Acres we have been especially pleased with how they've completed such a complicated project in the required timescales, as well as how they've worked with local subcontractors.

"We will continue to work with local residents and sports clubs to finalise the designs prior to planning application submission next year and look forward to beginning work to provide the best possible facility to residents of the Forest of Dean."
Full details for the Five Acres site redevelopment can be found at the link below:
https://www.fdean.gov.uk/planning-and-building/regeneration/five-acres-redevelopment-site/
Contact Information
Forest of Dean Communications Team