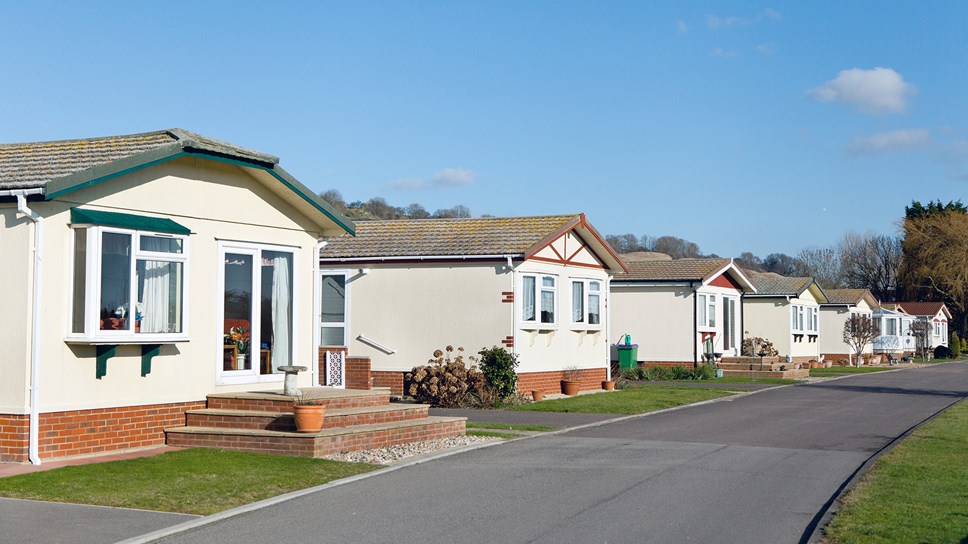 Park home improvements lead to greater fuel affordability
More than 200 park homes in Gloucestershire and South Gloucestershire, including 33 in the Forest of Dean, have received new external wall insulation to make them more energy efficient, helping lower the running costs for residents living there.
The successful project has been delivered through the Warm and Well programme, a free service which supports those who are experiencing energy-related hardship by offering expert advice as well as help accessing funding for improvements to boost the performance of some of the region's most energy inefficient homes to ultimately lower bills and improve comfort. The scheme is delivered on behalf of a number of partners, including the Forest of Dean District Council, by the charity, Severn Wye Energy Agency.
Councillor Chris McFarling, Cabinet Member for Climate Emergency, Forest of Dean District Council, said: "Park homes often could be much better insulated. Those that fall into this category can be difficult to keep warm, leading to high heating costs. Improving the energy performance of these hard-to-heat homes has never been more important as people across the region start to feel the squeeze of escalating fuel prices and the rising cost of living on their household budgets.
Recent statistics show that over 12.5% of Forest of Dean households were living in fuel poverty in 2020, considerably above average for the South West, and this figure is likely to increase given the current economic climate. It is great news that so many park homes here in the Forest of Dean have been able to directly benefit from the new measures which will positively impact the health and quality of life for those living there."
In total, 204 park homes were insulated between October 2020 and March 2022, with ten rural homes also receiving air source heat pumps co-funded through the Warm Homes Fund.
Improved living conditions also bring better health outcomes, meaning residents are less likely to need to visit their GP or hospital. Residents who received the improvement measures also reported feeling happier and healthier with 98% reporting how much warmer they felt at home since the insulation was installed. The scheme has also brought a significant reduction in carbon emissions. As a result of the insulation, 239 tonnes of carbon will be saved every year, the equivalent of making 55 homes carbon neutral.
The energy-efficient improvements have been funded from a £1.7m grant from the Department for Business, Energy, and Industrial Strategy's Green Homes Grant Local Authority Delivery scheme and delivered in collaboration with the seven local authorities in Gloucestershire and South Gloucestershire and the Gloucestershire NHS Clinical Commissioning Group. The grant was awarded to improve the energy efficiency of homes of low-income households, help reduce fuel poverty and deliver progress towards the UK's commitment to net zero by 2050.
Anyone struggling to heat their home, concerned about rising energy prices or wanting to find out more about grant funding opportunities can contact the Warm and Well Freephone advice line on 0800 500 3076 or via their website: www.warmandwell.co.uk.
Contact Information
Forest of Dean Communications Team
Notes to editors
Severn Wye Energy Agency is a non-profit company and registered charity operating throughout Wales and its English border counties supporting communities, residents and businesses to create a sustainable, affordable, low carbon future. Severn Wye run the Warm and Well programme, helping residents of Gloucestershire and South Gloucestershire live more energy efficient lives.
Warm and Well is funded by Cheltenham Borough, Cotswold District, Forest of Dean, Gloucester City, South Gloucestershire, Stroud District and Tewkesbury Borough Councils; and the Gloucestershire NHS Clinical Commissioning Group. The Local Authority Delivery scheme was funded by Secretary of State for the Department of Business, Energy and Industrial Strategy.