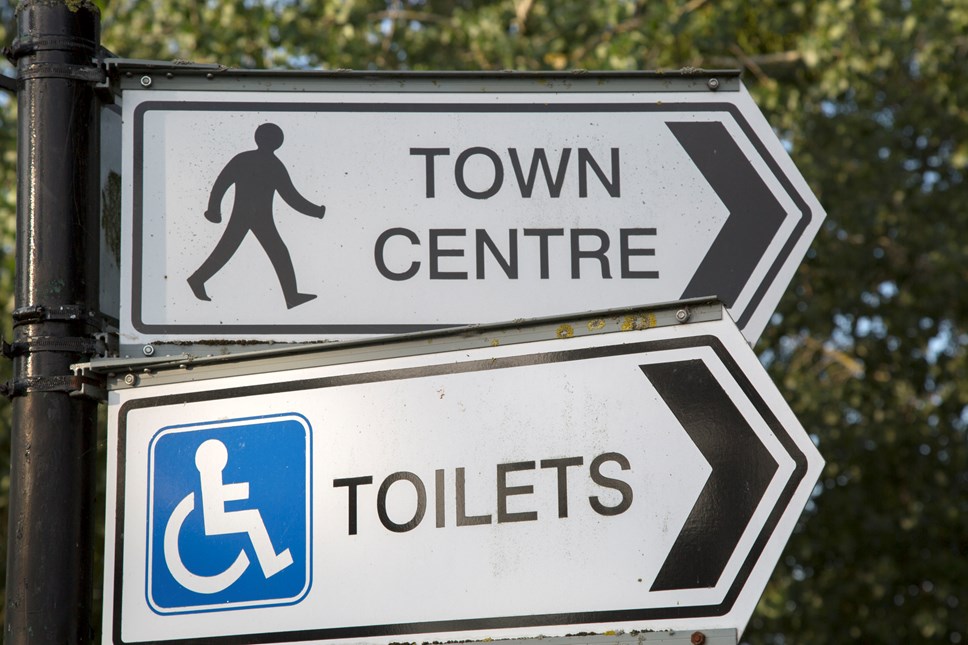 Public toilets in the Forest's largest towns undergo review
Some of the public toilet facilities across the district's town centres are being reviewed using funding secured as part of the UK Shared Prosperity Fund (UKSPF). The review aims to increase the accessibility and safety of these facilities whilst also reducing antisocial behaviour and vandalism.
The UK Shared Prosperity Fund is part of the UK's levelling up agenda. It aims to improve pride in place and increase life chances across the UK investing in communities and places, supporting local business, and people and skills. The Forest of Dean District Council will receive £1 million across three years, receiving £119,000 in the first year.
Cabinet member for the economy, Bernie O'Neill, said:
"As a council we are committed to developing the local economy for residents, businesses and visitors. Public toilets may be a small part of our town centres but they are essential for so many people.

"This SPF-funded review will enable us to understand how we can make improvements to these facilities. Allowing us to create safer and more accessible toilets for our residents and visitors.

"I look forward to seeing the outcomes of the review and the changes which come from it."
The review will take into account the condition of the toilets, how they can be improved and the cost involved in doing so. The toilets that are part of the review are:
Railway Drive, Coleford.
Lewell Street Car Park Newent.
Newerne Street Car Park, Lydney.
The toilets at Heywood Road in Cinderford have also been considered as they have faced significant anti-social behaviour and vandalism leaving visitors uncomfortable using them. Therefore, it has been decided that the toilets should be closed whilst the review is taking place. Cinderford is also due to receive new Changing Places toilets at 6 Market Street, the old HSBC building and Dockham Road once renovations are completed.
Residents may have also noticed that Mitcheldean's public toilets have also been closed recently. They are not part of the review, however they are currently undergoing repairs following vandalism.
The outcome of the review will lead to modern, safe, dementia friendly and accessible toilets across some of our larger town centres. Giving residents and visitors better facilities which are cleaner, safer and less susceptible to vandalism and anti-social behaviour.
Contact Information
Forest of Dean Communications Team