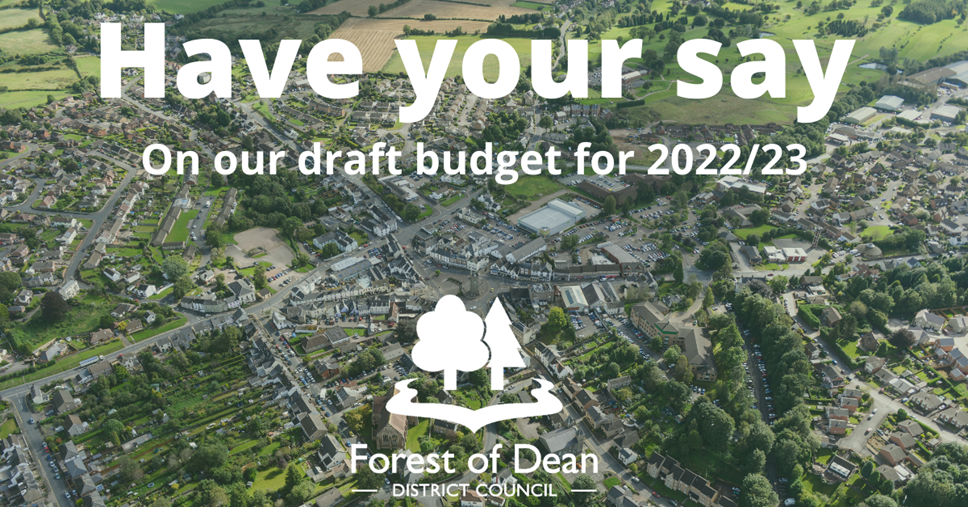 Residents invited to have their say on Forest of Dean District Council budget
Residents and businesses in the Forest of Dean are being asked to give their views on the District Council's spending plans as it prepares its budget for the next financial year.
Cabinet Member for Finance, Cllr Richard Leppington, said,
"Over the past decade we have seen cuts to our budget, and this year is no different, especially amid rising inflation. We are expecting these Government cuts to carry through to coming years as economic recovery continues but we are committed to continuing to deliver a high quality service for our residents.

"As part of the careful management of our finances we have improved the efficiency of our services and were able to save over £569,000 last year, and are predicting to save more than £340,000 this year.

"As part of our budget plans we are proposing we continue to strive towards our goal of taking effective action in response to the climate emergency, ensuring that affordable housing is available for the people that need it most and that the services we deliver such as our street warden team continue to operate effectively.

"This consultation is your chance to share your opinion and ask questions about the proposed budget for 2022/23. If you would like to have your say, please head to our website where you can find all the information you need."
Forest of Dean District Council is responsible for a number of local services such as waste collection, planning, licensing, housing, parking and leisure with the county council delivering other services such as maintaining roads, adult social care, education, children's services and public health.
The District Council only receives 10% of the total council tax bill residents pay, which is split between the district council, county council, police and fire service. Residents can see the exact split in their council tax bill.
To view the Council's proposal for the 2022/23 budget, visit: https://fdean.gov.uk/budget
The Council will be saving £50,000 in the next year by reducing its use of carbon-sourced power, while also improving the efficiency of the services it provides will help to reach its goal of saving more than £340,000.
As well as continuing to provide its services, the Council will also be supporting the Levelling Up projects with the regeneration of Fives Acres and improving disabled facilities to enable independent living.
To pay for the budget the Council is proposing to raise council tax by 10p a week for a band D property.
If residents or businesses would like to share their views on the budget proposal, or had any questions, they can send emails to Andrew Knott, Chief Finance (S151) Officer for the Forest of Dean District Council – section151@fdean.gov.uk. The deadline to respond to the consultation is 28th January 2022.
Contact Information
Forest of Dean Communications Team