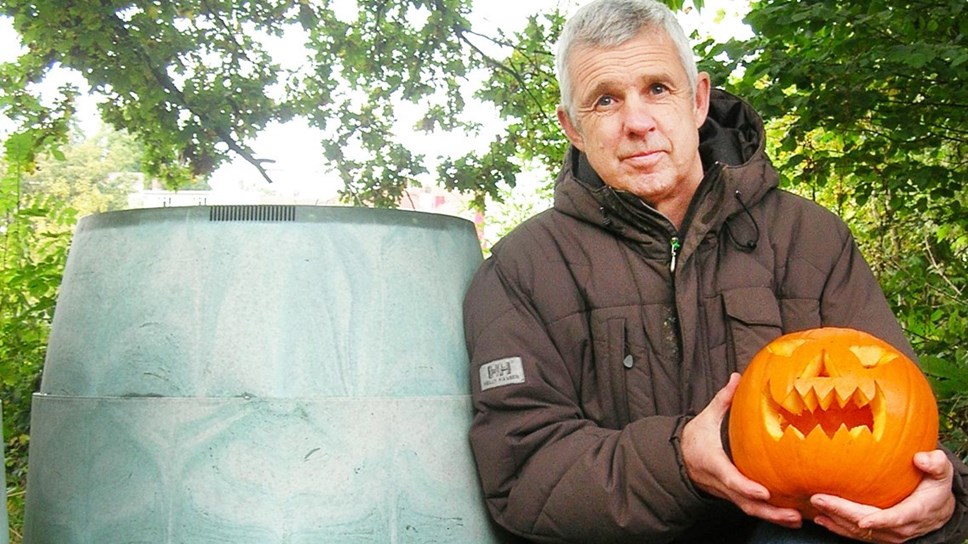 Residents urged to reuse and recycle to cut scary amount of Halloween food waste
With an estimated 35 million pumpkins sold nationally in the lead up to Halloween, Forest of Dean District Council is encouraging residents to reuse and recycle their Jack o' lanterns once the celebrations are over.
Carved pumpkins make an excellent addition to a home compost heap or bin but anyone living in the district can easily recycle their leftover pumpkins at the kerbside using the weekly food waste service. Residents need only remove candles, wax and tea lights before carefully cutting up the pumpkin and placing it inside their food waste caddy.
Councillor Sid Phelps, Cabinet Member for Environment at the Forest of Dean District Council said: "Halloween is a time for fun, however, with sales of pumpkins growing year on year, it is increasingly important that they are disposed of sustainably. Close to a third of all greenhouse gases are because of food production. With global temperatures increasing, it has never been more important that we value our food and make the most of it by using up what we can, and composting and recycling the rest to reduce our emissions.
With the average pumpkin weighing 5kgs and reports that over a half of people now purchase at least one pumpkin as part of the annual festivities, the District Council believes that by residents eating, composting or recycling them, up to 200 tonnes of food waste could be diverted from rubbish bins.
Councillor Phelps added: "A recent study of Gloucestershire's waste shows that a quarter of all rubbish going into refuse bins is food waste which can have been avoided or recycled. Taking part in the kerbside recycling services we offer is one simple step we can all do to play our part in tackling the climate emergency so we would urge anyone who isn't already using the food waste services to give it a try."
Householders who need a food waste caddy can pick one up from the Council's Reception in Coleford or request one to be delivered by calling 01594 810000. Residents can opt to line their kitchen caddies with newspaper, compostable bags or unwanted plastic bags, such as old carrier bags and used bread bags.
Gloucestershire residents can also take advantage of a 'buy one get one half price' on the purchase of compost bins through Gloucestershire Recycles, the countywide waste reduction campaign. To order a bin simply call 0844 571 4444 or buy online at: www.gloucestershirerecycles.com. A £5.99 delivery charge applies.
Contact Information
Forest of Dean Communications Team