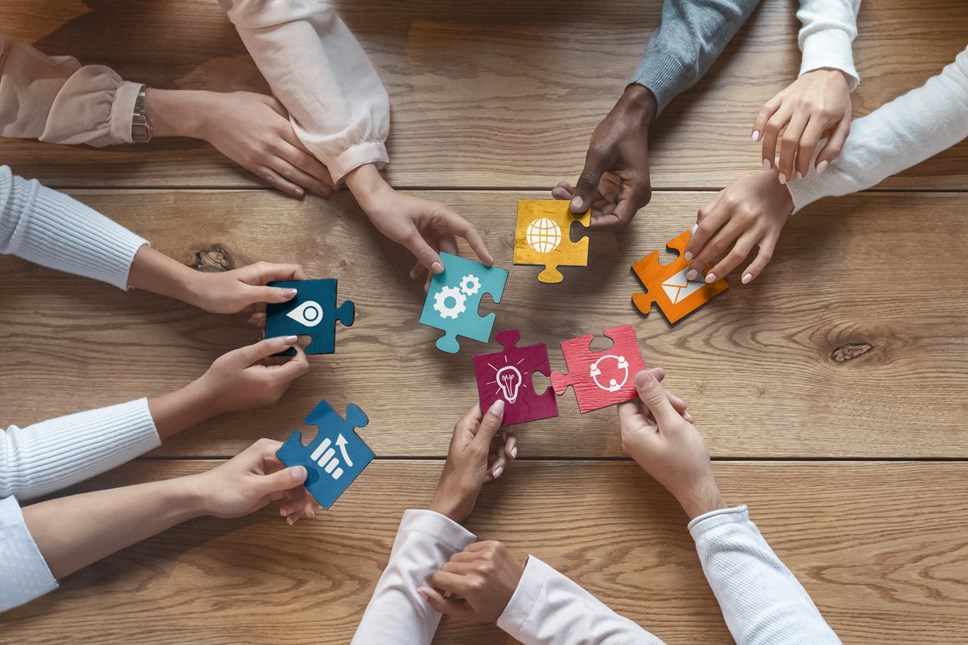 Local organisations join forces to develop exciting bid for £20m Levelling Up Fund in Forest of Dean
Forest of Dean District Council, Hartpury University and Hartpury College and Cinderford Town Council are joining forces to submit an exciting bid for up to £20m to the Government's Levelling Up Fund. If successful the bid would aim to improve leisure facilities, introduce new education opportunities, repurpose vacant buildings and grow the local economy across the Forest.
The proposal would see a bid submitted for the full £20m available and it would include a new University Innovation, Careers and Enterprise Learning Centre at Hartpury bringing jobs and education opportunities alongside redevelopment of the Five Acres site as a leisure destination with a centre for sporting excellence that would also include a satellite site for Hartpury University and Hartpury College. The third part of the bid centres around regeneration in Cinderford Town Centre including bringing vacant buildings back into productive use.
It follows an invitation in April for local organisations to put forward capital projects to be included in the bid being led by Forest of Dean District Council.
Over 16 expressions of interest were received which went through a rigorous process to check whether they would pass the Government Levelling Up funding criteria before the final proposal was pulled together.
The proposal, which has been put forward by the District Council, with support from the partner organisations and the local MP, Mark Harper, is believed to include the best mix of projects to meet Government criteria and win the funding.
Tim Gwilliam, Leader of Forest of Dean District Council, said, "I am thrilled to say we are going to be working with Hartpury University and Cinderford Town Council to pull together our Levelling Up Fund bid in the coming weeks and hopefully bring this vital funding to the Forest of Dean.

"If successful this bid will improve education opportunities, provide improved leisure and sporting facilities and help grow our local economy. We are working as hard as possible to develop the best bid we can and the ideas we have are hugely exciting for the area.

"It's brilliant to see different organisations coming together for the benefit of our community and we will do all we can to put our case forward for this funding which would be a huge boost for the future of the Forest of Dean."
A new project team will now be brought together including the three organisations to develop the bid and get it ready for the submission date of 18 June. Details of what will be included in the bid as part of each development project will be agreed in the next few weeks to make sure the bid meets the requirements of funding criteria.
A key focus of the bid will be on bringing forward the regeneration of empty buildings to provide facilities and services that meet the needs of local people as well as delivering new developments which offer modern space for learning and leisure. There will also be a focus on the Climate Emergency, every effort will be made to reduce the carbon impact of developments and to support sustainable forms of transport.
The bid has been supported by the Forest of Dean's local MP, Rt Hon Mark Harper MP, who said; "The fact that the Forest of Dean is in a position to bid as a priority one area for the Levelling Up Fund shows how committed this Government is to communities such as ours.

"This process is a valuable opportunity to build upon the investment we have seen in the Forest of Dean in recent years – from the state of the art Gloucestershire College campus in Cinderford, that I worked hard to get the money for, to Hartpury's Agri-Tech initiative and Cinderford's AccXel Construction Skills Accelerator Centre due to open soon.

"I'm pleased to be working in partnership with Hartpury University and Hartpury College together with the Forest of Dean District Council and Cinderford Town Council to put together what I hope will be an impressive bid which will have a strong chance of success.

"This is a great opportunity to increase skills, jobs and opportunities for everyone in the Forest of Dean whilst delivering on our commitments to reduce our impact on the environment."
Russell Marchant, Vice-Chancellor, Principal & CEO Hartpury University and Hartpury College, said "Hartpury University and Hartpury College are proud to be part of this Levelling Up Fund bid with the Forest of Dean District Council and supported by Mark Harper MP.

"As we emerge from the Covid pandemic it is vital that organisations partner to deliver improved services and opportunities for young people. This bid is about a positive future for the Forest.

"Hartpury's proposed University Innovation, Careers and Enterprise Learning Centre will create a significant number of jobs and will help supercharge post 16 higher education attainment in the Forest of Dean. Furthermore, it will support the development of green technology, specialist skills and provide specialist business support.

"What's particularly exciting is how we will directly work with the Five Acres leisure development helping to deliver a pathway for young people to reach their potential."
Cllr Chris Witham, Chair of Cinderford Town Council said "This is an excellent step forward that builds on our Future High Street Fund bid from last year. Connecting with Five Acres and Hartpury will further develop our plans to create a vibrant hub that supports communities across the Forest of Dean. I'm very excited to see the plans develop and our council is committed to delivering projects that improve the lives of local people."
All the projects not included in the proposal, or not eligible for this funding, will form a new Capital Project Portfolio to build a short, medium and longer term picture of where funding is needed for projects across the district. Forest of Dean District Council will use this list as future funding opportunities arise, to help signpost applicants to new funding sources and to support project applicants to develop their project ideas.
Tim Gwilliam, Leader of Forest of Dean District Council, said "We received a great response from the local community on ideas for how we can improve our local area which have allowed us to get to this stage.

"While some of those projects aren't included in this bid, we are absolutely committed as a council to support them moving forward where we can."
Contact Information
Forest of Dean Communications Team
Notes to editors
The Forest of Dean District was announced earlier in the year as a Level one priority area as part of the new Government Levelling Up Fund which means the area is prioritised for up to £20million in funding for local projects covering either transport, regeneration or culture.
Forest of Dean District Council is working closely with partners to pull together an application for the first round of funding, which must be submitted by 18 June 2021.
The funding is not automatically allocated and the District Council must put in an application which is then considered alongside others from across the country, against strict criteria set by Government.
With the tight timescales around the application process, the window for 'expressions of interest' from the local community was open from 1- 23 April
There will be an All Member Briefing prior to Cabinet on 10th of June.